Will Mauritsen and Noah Russell each scored a pair of goals Saturday to lead Belgrade to victory on senior-parent day at the Belgrade Youth Sports Complex.
The Panthers scored five first half goals en route to a 7-0 shutout of Great Falls CMR in an Eastern AA clash. It was a dominant offensive performance for the team.
"For about a week to 10 days we've been working pretty hard on our offensive presence in the central channel and how to pierce their offsides line by keeping it on the ground and getting creative plays in there. And it worked extremely well, especially in the first half," Belgrade head coach Dr. Robert Lemley said. "So proud of the boys for putting it together and executing on the game plan and tactics that we've been working on for over a week now. It came together well."
Belgrade (3-5-1) snapped a five-match losing streak earlier in the week, and got a boost offensively against the Rustlers with the return of Gavin Snajdr. The junior scored the first goal of the match and assisted on another.
"We had a pretty significant injury that took out a player for about two and a half weeks with his ankle and he (Snadjr) was back today," Lemley explained. "Having him back has really caused the team to come together with more chemistry and I think to play better with heightened confidence."
Both of Mauritsen's goals came in the first half, while Russell had the two second half goals on unassisted efforts. Jonathan Foster also scored an unassisted goal in the first half.
But the prettiest goal of the day came midway through the first half when Wilson Goodhue headed in a corner kick by Russell off a set play.
"We've been trying to push everybody into a certain zone to develop a pocket for one of our tall players and that worked perfectly," Lemley said. "That was done by the book of how we planned it out, beautiful header."
It was a key victory for Belgrade, which closes out the regular season with a tough stretch of contests that includes unbeaten Bozeman.
"We're definitely looking forward to the games ahead," said Lemley. "They're going to be the harder games, but we're looking forward to playing them and competing with them."
Belgrade girls snap scoring drought in defeat
For the first time in more than three matches Belgrade finally scored a goal Saturday. But a furious second half rally was snuffed out by Great Falls CMR in an Eastern AA match.
The Rustlers scored the match-clinching goal in the 78th minute to hang on for a 3-1 victory. Still, Belgrade head coach Carl Bridwell praised his team for battling back from a two-goal deficit.
"I'm very proud of them to actually get a goal back when we were down. That's been a big issue after getting scored on is just getting our heads down and not playing," he said. "So the fact that they did that was insurmountable today. That means a lot and I hope they recognize that even though a loss is hard."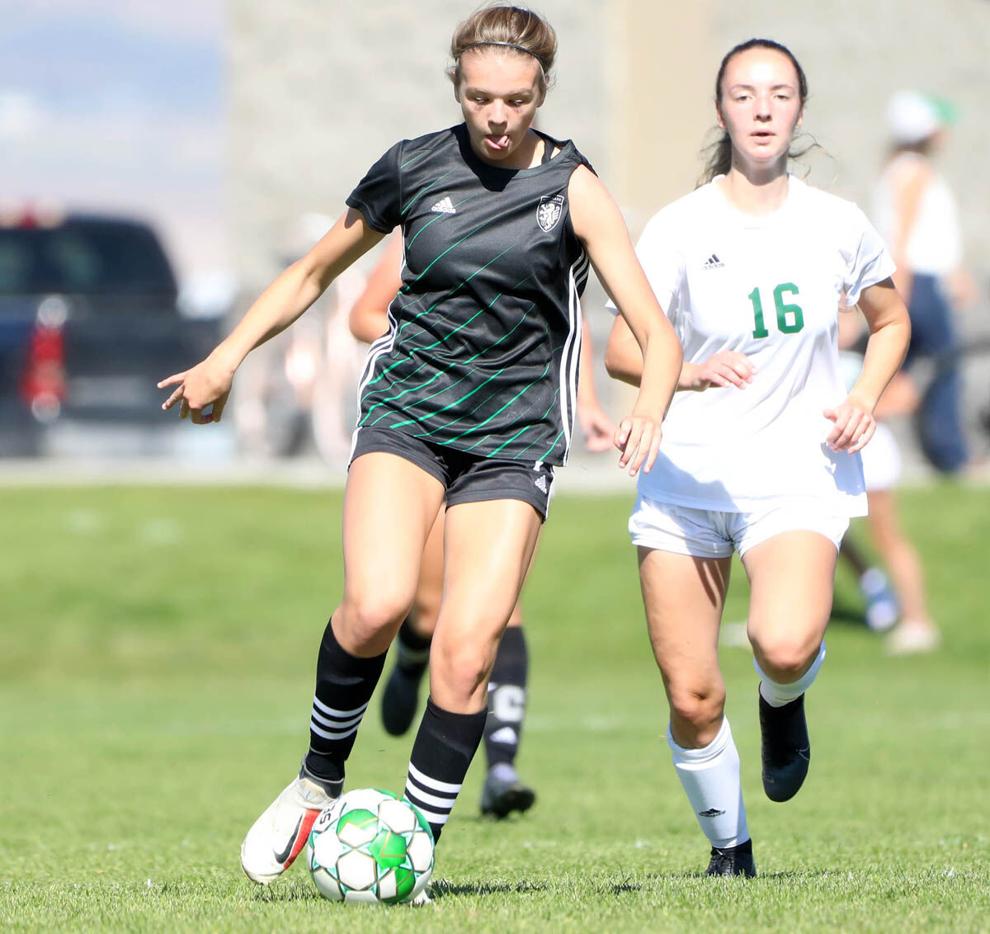 CMR took a 1-0 lead into halftime after Kacey Christensen scored off a cross by Allison Marr in the 29th minute. Then Jordan Clark scored in the 54th minute to make it 2-0.
But the Panthers cut the deficit in half when Sydnie Watson fed a pass to Maggie Lappe in front of the goal and the senior scored with 14 minutes remaining in the contest.
"We knew about our ability to play down the wing and so we really emphasized that after another little mistake led to the (second) goal," said Bridwell. "Once Sydnie Watson was willing to press all the way up and get the cross in and implement what we said, we got that first goal and it changed the momentum for a bit."
The Panthers continued to press down the stretch, but CMR sealed its victory when Christensen scored the late goal.
It was the seventh consecutive loss for Belgrade (2-7-0), which returns to action Thursday at unbeaten Billings West.
Belgrade 7, Great Falls CMR 0
Great Falls CMR    0  0  -  0
Belgrade        5  2  -  7
Bel - Gavin Snajdr (Noah Russell)
Bel - Will Mauritsen (Wilson Goodhue)
Bel - Jonathan Foster (unassisted)
Bel - Russell (unassisted)
Bel - Russell (unassisted)
Shots: CMR 9, Bel 30. CK: CMR 3, Bel 3. Fouls: CMR 10, Bel 9. Saves: CMR 12 (Colton Martello), Bel 4 (Shay Schoolcraft).
Great Falls CMR 3, Belgrade 1
Great Falls CMR    1  2  - 3
Belgrade        0  1  -  1
CMR - Kacey Christensen (Allison Marr), 29th
CMR - Jordan Clark (unassisted), 54th
Bel - Maggie Lappe (Sydnie Watson), 64th
CMR - Christensen (Marr), 78th
Shots: CMR 17, Bel 14. CK: CMR 4, Bel 1. Saves: CMR 4 (Robin Blair), Bel 4 (Mackenzie Turner).