THREE FORKS — Three meets into the season and Manhattan Christian's Riley Schott and Manhattan's Hallie Hemenway have already separated themselves from the pack.
Both have high expectations for the season, and both enjoyed a fast course Saturday during the Headwaters Invitational at Headwaters Golf Course.
"I'm just grateful we got a course that's on a golf course. We've been running on fairgrounds or school property because of the Covid thing going on," said Hemenway. "I liked it because it didn't feel like you were running straight for a long time. They added in some good corners, which I enjoyed because I don't really like straightaways. They feel longer."
"It's flat right now, which is what I want right now," added Schott. "I've been having some issues with my ankle, so it helps to not to have any gradient going up and down all the time. So this was a really nice course just to go out and run."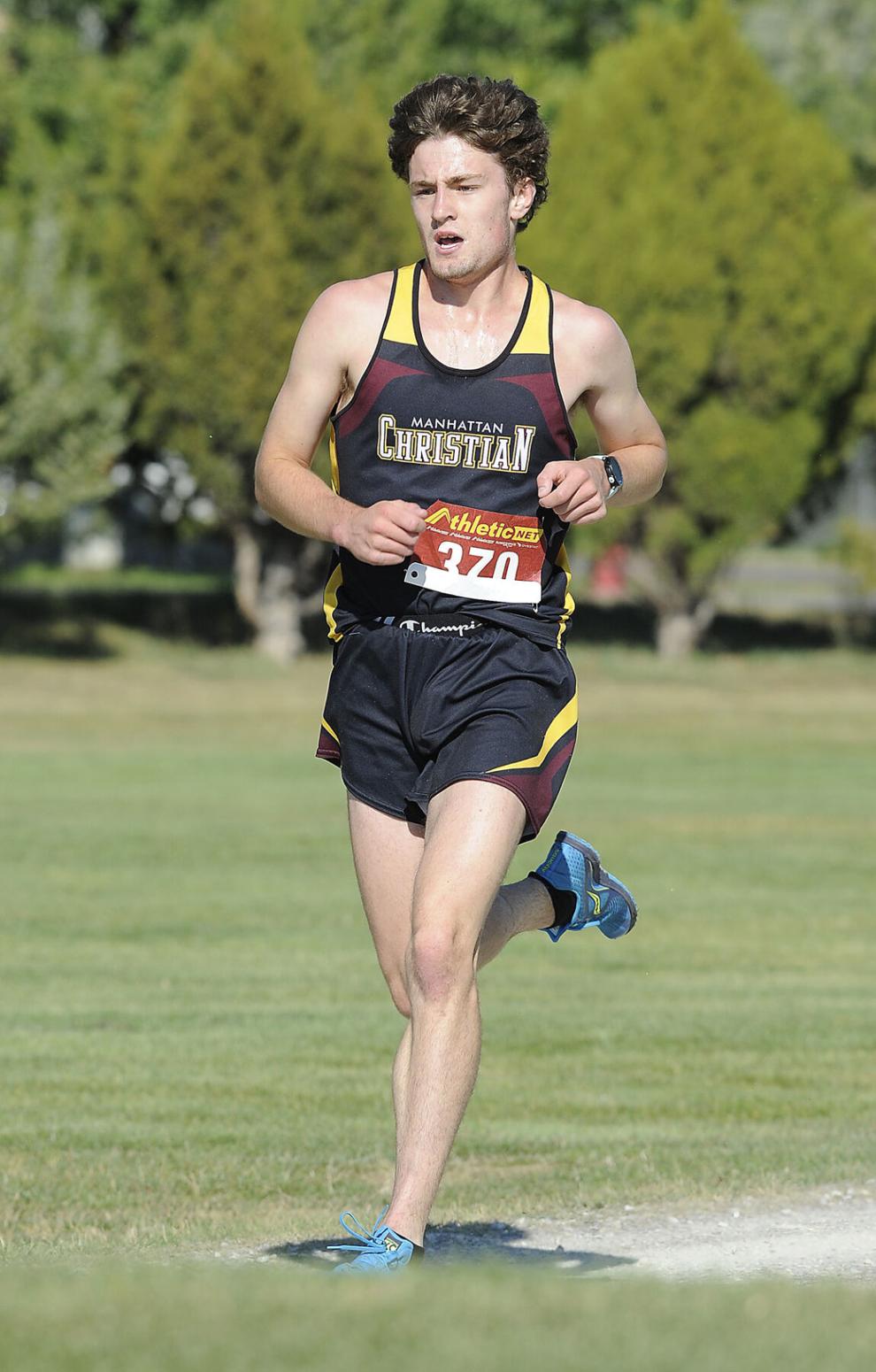 While complete results had yet to be posted, it appeared that Schott recorded the meet's best time. The senior clocked in a time of 16:52.1 running in the third wave of varsity races.
Schott won the State C championship as a sophomore and then placed third a year ago. He hopes to return to the top of the podium next month when the state meet is held in Kalispell.
"It's a really special feeling to win that," Schott noted.
Schott had to work hard to earn the inside corner on the first turn, and then led the rest of the race. But setting the pace for the field has been an adjustment.
"It's tough for me. It's not how I like to run," Schott said. "But I've adapted to it a lot better than I thought I would this year, so it's not as big of an issue as it would have been last year."
Christian's boys are the four-time defending Class C champions and despite losing last year's state champion, Ben Morrison, are again the team to beat. They displayed their depth by boasting the top six finishers.
Senior Matt Kenney placed second with a time of 17:14.1, while freshman Oren Arthun was third in 17:20.4.
"We're looking really good again this year. We have some kinks to work out, but everyone's looking really strong," said Schott. "Oren, one of our freshmen, just ran really quick, so that's looking good. We have two other guys that are kind of in his range. They weren't up there today, but they could be in a week's time or two week's time. We're looking really good."
For the third consecutive week Hemenway earned a runner up finish. Only Townsend's Emma Stolte has posted a better time than her the past two weeks in head-to-head meets.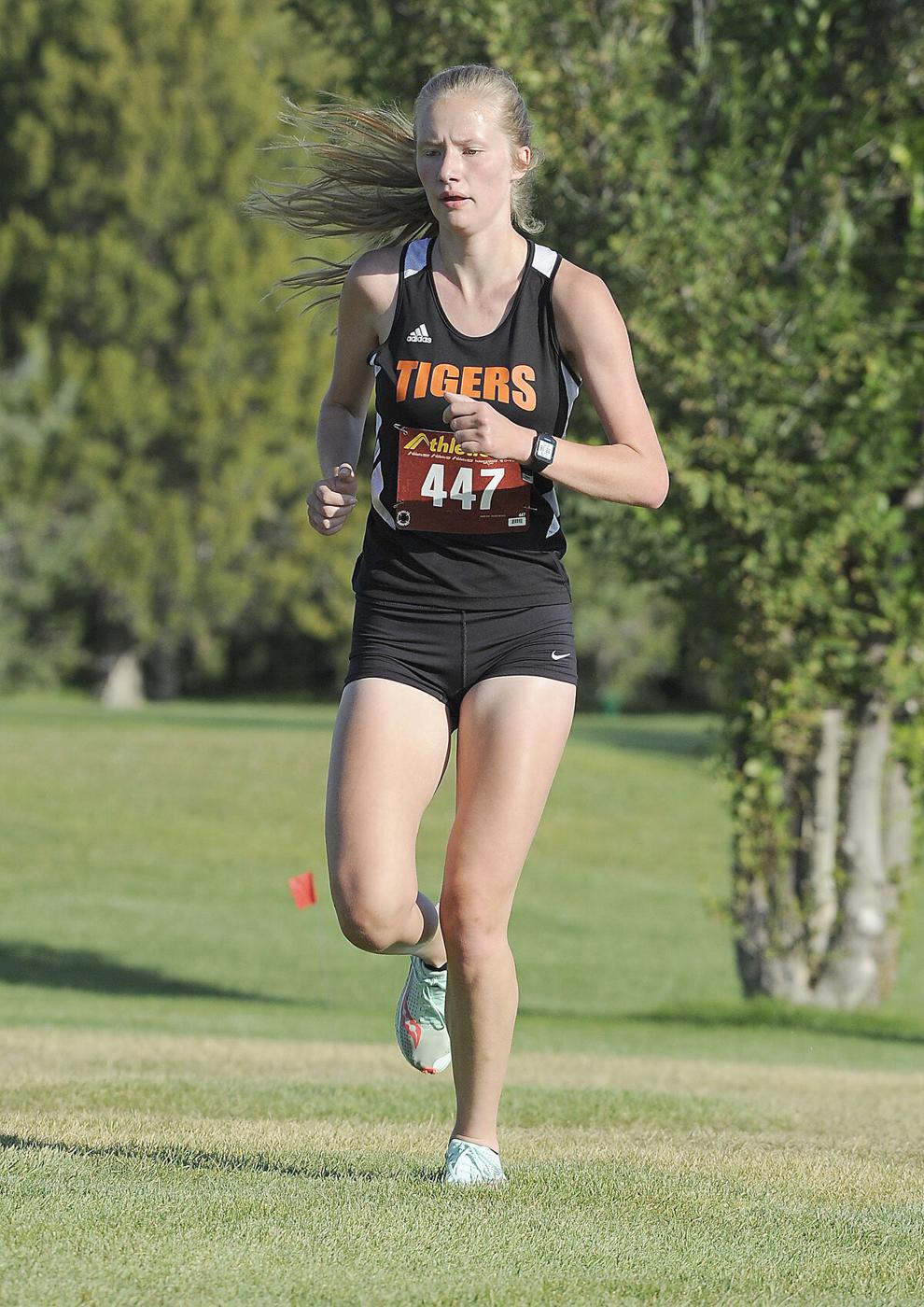 But Hemenway, who dropped 30 seconds off of her time Saturday, has enjoyed the early season rivalry.
"I like having the competition," she said. "It gives me someone to run against and it's enjoyable."
Hemenway, who crossed the finish line in 20:53.9, placed seventh at state a year ago to help the Tigers earn a runner up finish. She's targeting another top 10 finish this season.
"This year my goal is actually to PR," Hemenway said. "I'm looking to try and run in college, so just trying to drop my times as much as I can and hopefully place in the top 10 again."
Hemenway has already cut nearly two minutes off her time since the season opener Aug. 28, and she's targeting the school record of 20:00 after coming up just .02 seconds from eclipsing it at state last year.
"Right now the main focus is improving in practice, which will help in the meets," Hemenway said. "I'm coming out a little fast right now, so I need to stay a little more controlled in the first mile so I can go better in the second two."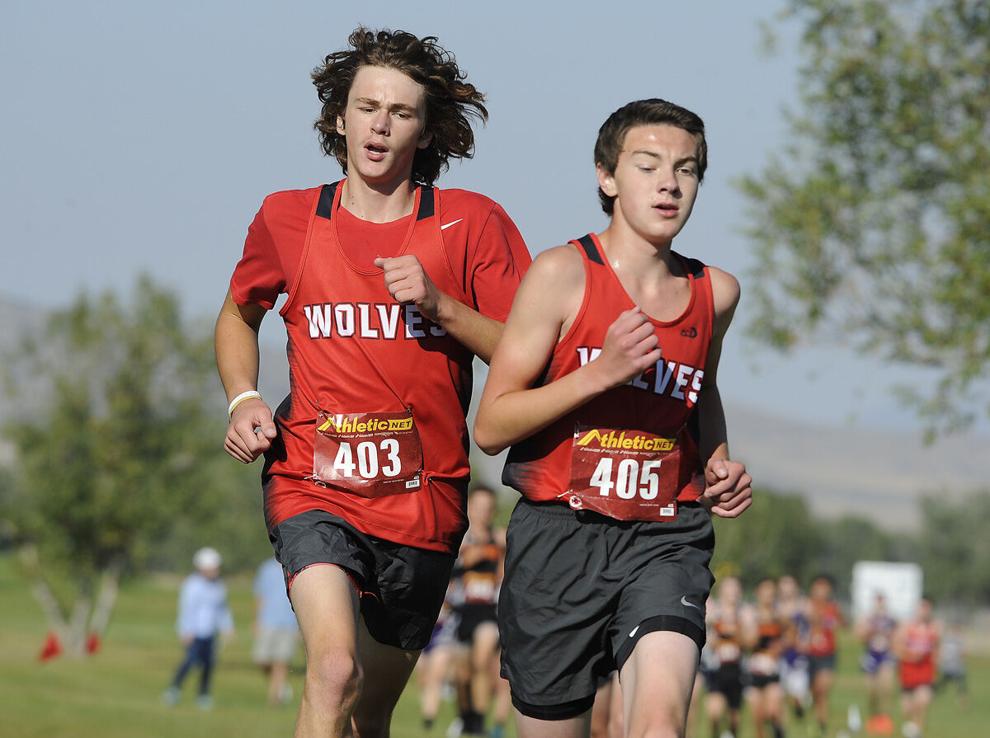 Christian's boys won the meet with a team score of 17 after boasting harriers with the top four times on the day. Manhattan was second with a 62, while Three Forks was fourth with an 82.
Devan Walhof was the fourth runner for the Eagles in 17:53.9, while Manhattan's Wyatt Barney (18:10.1) edged Three Forks' Garrett Golding (18:10.7) to place fifth.
Townsend's girls, led by the effort of Stolte, won the meet with a score of 26. Stolte posted a time of 19:54.6, which was nearly a minute faster than Hemenway.
Manhattan placed second with 31 points, while Three Forks and Manhattan Christian rounded out team scoring with an 80 and 98, respectively.
Manhattan boasted five runners in the top five with Deanna Yung placing fourth in 21:16.4. Jayden Woodland led Three Forks with a ninth place finish in 21:46.1, while Christian's Ava Bellach was 13th in 22:23.2.
Christian and Three Forks are scheduled to compete at the Twin Bridges Invitational Sept. 18, while Manhattan travels to Red Lodge for a meet Sept. 19.
(at Headwaters Golf Course)
Team scores: Manhattan Christian 17, Manhattan 62, Townsend 73, Three Forks 82, Jefferson 117. No score: Ennis.
Individuals: Riley Schott, MC, 16:52.1; Matt Kenney, MC, 17:14.1; Oren Arthun, MC, 17:20.4; Devan Walhof, MC, 17:53.9; Wyatt Barney, Man, 18:10.1; Garrett Golding, TF, 18:10.7; Nathan Adams, MC, 18:13.8; Zach Wickens, Tow, 18:18.2; Luke Meeker, Man, 18:21.2; Ace Edgerton, Tow, 18:29.4; Beau Johnston, TF, 18:30.8; Logan Gilmore, Jeff, 18:36.9; Ty Henry Steele, Tow, 18:41.9; Bryon Fanning, TF, 18:43.5; Lanyne Vanderby, Man, 18:44.5; William Rolando, 18:57.3; Payden Cantalupo, Man, 19:04.5; Carson Blanchard, Man, 19:05.2; Logan Hornung, Jeff, 19:05.7; William Lynde, Tow, 19:14.6; Cullen Visser, MC, 19:15.0; James Pitassy, Tow, 19:16.5; Sam Lane, Tow, 19:22.5; Hunter Perrin, Man, 19:23.0; Gabe Hungerford, TF, 19:23.2; Dawson Powers, Whi, 19:30.4; Anthony Deriana, TF, 19:34.8; Dylan Mikesell, Jeff, 19:53.3; Jaron Berg, TF, 19:54.9; Michael Emter, Jeff, 20:12.2; Eli Beardsley, Ennis, 20:27.4; Christian Gillmore, Jeff, 20:33.7; Cody Hager, MC, 20:54.6; Cael O'Dell, Tow, 21:08.7; Rhett Violett, TF, 21:58.5; Tommy Emerson, Whi, 23:09.1; Brendan Gallagher, Jeff, 23:23.2; Kyle LaClair, Ennis, 23:26.2; Hunter Coyle, Whi, 25:04.3
Team scores: Townsend 26, Manhattan 31, Three Forks 80, Manhattan Christian 98. No score: West Yellowstone.
Individuals: Emma Stolte, Tow, 19:54.6; Hallie Hemenway, Man, 20:53.9; Justene Santi, Tow, 21:06.1; Deanna Yung, Man, 21:16.4; Sarah Christensen, Tow, 21:20.0; Bailey Taves, Tow, 21:32.2; Madeline Severson, Man, 21:36.2; Kit Wiersema, Man, 21:43.1; Jayden Woodland, TF, 21:46.1; Saige Duffin, Man, 21:59.3; Zoey Wickens, Tow, 22:11.1; Rylee Cameron, Man, 22:11.5; Ava Bellach, MC, 22:23.2; Kodee Kolberg, TF, 22:32.7; Kiersten Van Kirk, MC, 22:45.4; Delaney Stearns, Jeff, 22:52.3; Julia Fowler, Man, 23:33.5; Emma Huffman, Tow, 23:34.4; Ari Judd, TF, 23:53.1; Lily Jones, TF, 24:02.4; Zandra Potts, TF, 24:29.1; Mali Kamerman, MC, 24:32.9; Brooke Edgerton, Tow, 24:44.1; Becca Nelson, Jeff, 24:50.3; Ashlynn Roos, WY, Katelyn Van Kirk, MC, 24:53.0; Macee Patritti, Whi, 25:01.1; Rylee Dell, TF, 25:24.2; Kinzee Howey, TF, 2526.0; Natalie Barta, WY, 25:32.1; Malaya Kamerman, MC, 25:49.6; Austie May, Jeff, 27:29.1; Hailee Stiles, Jeff, 31:49.0.