BOZEMAN —With each hole, with each swing, Caidin Hill's lead grew safer. His demeanor, his approach, never changed.
Everyone had finished their rounds. Hill led by six strokes, and the Manhattan Christian senior and two-time state champion had a 5-foot putt for par before his third title was official.
He wasn't somber his career was coming to an end. He wasn't ecstatic he was so close to victory. With people gathered around the green waiting to applaud him, Hill adjusted his ball, reexamined his line and took practice swings several times.
His focus was always on the next shot. This was proof. When asked if the moment was surreal, he chuckled.
"Yeah, it's sad that it's over," he said, "but I was just thinking, 'Man, I want to get up and down for par. I want to actually make this putt.'"
After he sunk it, he took his cap off to the sound of cheers and began shaking hands with his competitors. That's when he realized: "That's it."
Hill won the third Class C championship of his career by shooting 3-over-par 74 on Wednesday for 146 over the two-day event at Riverside Country Club.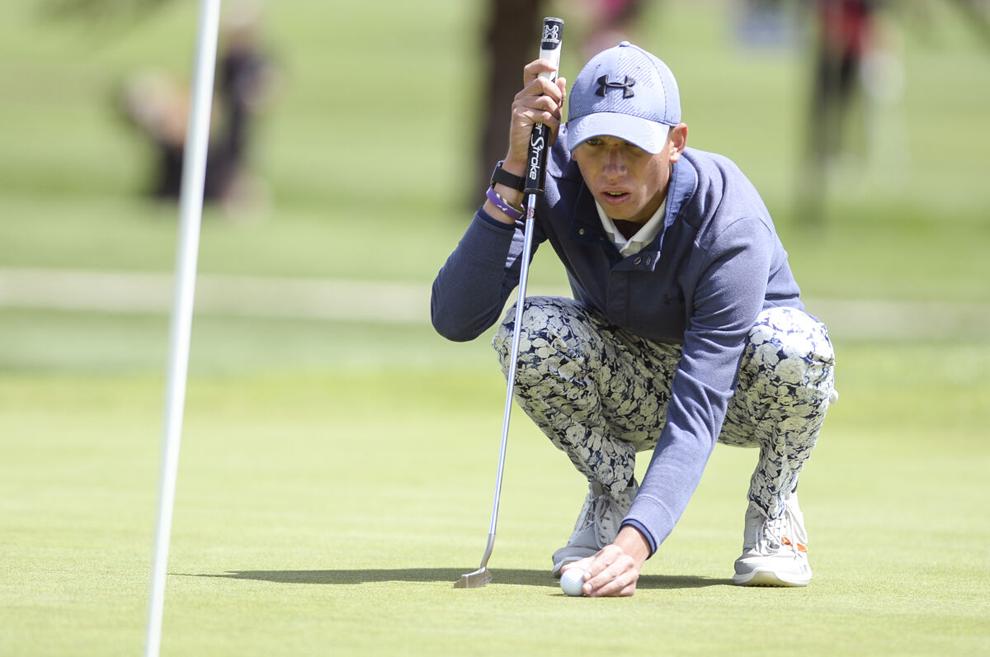 With Cullen Visser's 10-over performance in third and Trevor VanDyken's 20-over fifth-place showing, the Christian boys carded 460, a whopping 73 strokes ahead of Westby-Grenora and another 14 up on Alberton-Superior. With the program's third consecutive championship, the Eagles toppled the previous Class C meet record of 481 established by Lone Peak in 2014.
The Christian girls won their fourth straight title by carding 576 over the two days to win by 23 over Plentywood and 36 over Harlowton. The Eagles were four strokes off the state meet record.
Breaking the Eagles' stranglehold on the day was Plentywood freshman Paityn Curtiss, who won the girls title by five strokes with 86-85—171, one shot off the state record.
Curtiss, who plays almost daily out of her home course in Plentywood, trailed Lone Peak's TJ Nordahl by a stroke after the first round but took control when she shot a 44 on the front nine compared to 51 for Nordahl, who finished with 85-91—176. Defending champion Landri Paladichuk was fourth at 183.
"There was a lot of pressure because they're just all so good and I just wanted to compete with them," Curtiss said of her foursome of her, Nordahl, Manhattan Christian's Grace Aamot and Paladichuk. "I just needed to be with them and I'd be fine."
Other than Curtiss, the day belonged to Manhattan Christian.
"I'm very proud of both teams, all the players," Eagles head coach Tom Hubers said. "They played great."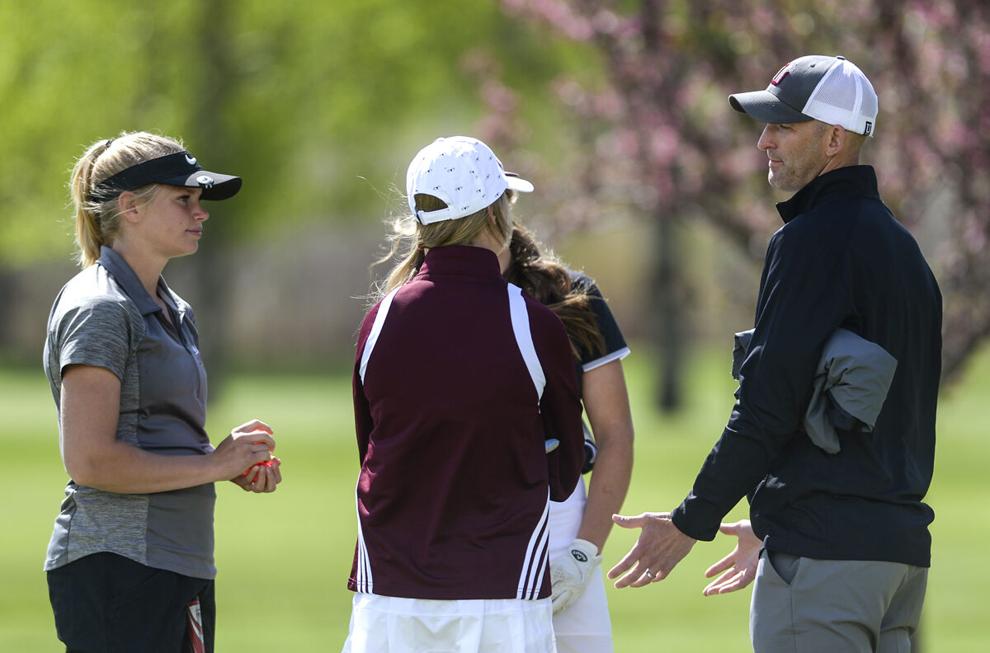 The Eagles girls won with a well-rounded performance.
Aamot moved up a spot after Tuesday, shooting 89-90—179 to take third. The Eagles' Tori Cook was fifth with 97-96—193. Natalie Walhof tied for 12th by carding 100-104—204. Lindsay Cook was 23rd with 109-115—224.
"I thought the team did really well," Aamot said. "I think we just kept it steady."
Aamot added the Eagles wanted to live up to the standards of the program and the golfers who have competed for Christian. She was content knowing her team sustained the high level of success the Eagles have enjoyed in recent years.
She added none of her teammates graduate, which could bode well for the future.
"It feels amazing," Aamot said. "Just knowing we could, it was enough. We stepped up."
Hill's jubilation was met with disappointment. He admitted his latest triumph made him wonder what could have been.
Last season was canceled at the onset of the coronavirus pandemic. This prevented Hill from ever going for four titles, a feat only two others in Montana have accomplished.
However, winning three straight makes him one of only 11 golfers to have reached this point.
Hill felt he was more consistent Wednesday. He shot 37 on both nines Wednesday. He bogeyed twice on the first half of his round and three times on the second, but he recorded two birdies during his final six holes.
Hill concluded just one stroke away from the state meet record of 145 carded by Lone Peak's Tate Totem in 2014.
"He can scramble when he does get in a little bit of trouble," Hubers said of Hill. "He avoids the high numbers."
The Eagles, though, believe that competition propelled them forward. Throughout the past two years, Hill said practice rounds were often close. That compelled them to work more with hopes of emerging as the better golfer.
This led to them breaking the team record, a hope they had going into the week. Visser ended up runner-up after shooting 76s both days for 152. VanDyken shot 80-82—162 for fifth while Logan Leep was sixth with 87-82—169.
"We're going to enjoy this moment," Hubers said after his teams' victories. "It's pretty special."
(at Riverside Country Club, Bozeman)
Team scores: 1. Manhattan Christian 228-232--460; 2. Westby-Grenora 264-269--533; 3. Alberton-Superior 275-272--547; 4. Broadus 285-296--580; 5. Ennis 297-291--588; 6. Scobey 296-301--597; 7. Plentywood 294-304--598; 8. Highwood 299-306--605; Chinook 290-323--613; 10. White Sulphur Springs 310-314--624; 11. Centerville 320-321--641; 12. Froid-Lake 320-334--654.
Individual scores: 1. Caidin Hill, Manhattan Christian, 72-74--146; 2. Cullen Visser, Manhattan Christian, 76-76--152; 3. Kale Peterson, Westby-Grenora, 74-80--143; 4. Tucker Johnstone, Park City, 83-77--160; 5. Trevor VanDyken, Manhattan Christian, 80-82--162; 6. Logan Leep, Manhattan Christian, 87-82--169; 7. Bryson Bahnmiller, Highwood, 82-88--170, and Justin Smith, Cascade, 84-86--170; 9. Danner Haskins, Superior, 87-85--172; 10. Jack Connolly, St. Regis, 91-85--176; 11. Braxton Wolfe, Scobey, 85-92--177; 12. Caden West, White Sulphur Springs, 90-89--179; 13. Aaron Waddle, Superior, 91-89--180, and Adam Paine, Westby-Grenora, 88-92--180; 15. Nicholas Jefferson, Ennis, 96-89--185, and Ian Swanson, Ennis, 90-95--185; 17. Joziah Brost, Broadus, 92-94--186; 18. Jakob Gill, Plentywood, 86-105--191; Sterling Thiel, Savage, 96-96--192; 20. Chaz Dilley, Centerville, 97-98--194; 21. Carter Mclees, Superior, 97-98--195, and Andrew Ballantyne, Fort Benton, 98-97--195; 23. Pierce King, Lone Peak, 98-98--196; 24. Kortny Cathey, Broadus, 90-108-198; 25. Mason Rathbun, Park City, 100-101--201, Ethan Macleod, Chinook, 89-112-201, Brian Mask, Superior, 101-100--201, and Cade Hanson, Sunburst, 109-92--201; 29. Ben Haley, Seeley-Swan, 107-95--202, Eli Sorenson, Plentywood, 104-98--202, Aidan Harbin, Westby-Grenora, 102-100--202; 32. Wyatt Gee, Broadus, 102-101--203; 33. Mackenzie Gordon, White Sulphur Springs, 103-101--204; Chris Hagan, Plentywood, 104-101--205; 35. Darian Holecek, Westby-Grenora, 109-97--206, and Benton Elliott, Chinook, 103-103--206; 37. Duncan Chisholm, Plains, 97-110--207; 38. Braedon Romo, Bainville, 98-110--208, Landon Lee, Highwood, 103-105--208, Owen Fishell, Scobey, 103-105--208, and Cooper Zimmer, Broadus, 107-101--208; 42. Keegan Klasner, Centerville, 106-103--209; 43. Kanyon Taylor, Fairview, 108-102--210; 44. Nolan Schumacher, Lone Peak, 103-108--211, and Ashdyn Hobbs, Froid-Lake, 108-103--211; 46. Tristan Fladger, Scobey, 108-104--212; 27. Braden Eoff, Chinook, 98-115--213, and Will Boumans, Valier, 108-105--213; 49. Colter Romo, Culbertson, 110-106--216; 50. Colten Miske, Wibaux, 111-106--217; 51. Jarrett Jenkins, Ennis, 111-107--218; 52. Erik Pula, Chinook, 111-108--219, and Jackson Wright, Fort Benton, 112-107--219; 54. Walker Ator, Froid-Lake, 108-113--221; 55. Isaac Johnson, Froid-Lake, 104;-118--222, and M. Toko Stops, Plenty Coups, 110-112--222; 57. Kase Anderson, Seeley-Swan, 104-119--223, and Santino Little Light, Plenty Coups, 118-105--223; 59. Ridger Bowman, Highwood, 114-113--227; 60. Summit Browning, Gardiner, 115-116--231; 61. Zach Freeman, Plentywood, 126-108--234; 62. Cade Hutchins, Centerville, 117-120--137, and Brandt Snead, Plains, 124-113--237; 64. Connor McDaniel, White Sulphur Springs, 121-124--245.
Team scores: 1. Manhattan Christian 286-290--576; 2. Plentywood 303-296--599; 3. Harlowton 295-317--612; 4. Chinook 341-322--663; 5. Fairview 344-341--685; 6. Belt 338-350--688; 7. Seeley-Swan 349-342--691; 8. Broadus 347-349--696; 9. Plains 354-342--696; 10. Scobey 352-345--697; 11. Wibaux 348-363--711; 12. Richey-Lambert 340-380--720; 13. Park City 366-363--729; 14. Absarokee 384-367--751.
Individual scores: 1. Paityn Curtiss, Plentywood, 86-85--171; 2. TJ Nordahl, Lone Peak, 85-91--176; 3. Grace Aamot, Manhattan Christian, 89-90--179; 4. Landri Paladichuk, Ennis, 88-85--183; 5. Tori Cook, Manhattan Christian, 97-96--193; 6. Sage King, Harlowton, 96-99--195; 7. Kimmy Curry, Plains, 101-98--109; 8. Casha Corda, Fort Benton, 103-98--201 and Crystal Hofer, Chinook, 104-97--201; 10. Ashyn Curtiss, Plentywood, 103-100--203, Sage Kilgore, Scobey, 105-98--203; 12. Natalie Walhof, Manhattan Christian, 100-104--204, and Teagan Olivia, Harlowton, 97-107--204; 14. Emma Isaacs, Broadus, 105-102--207; 15. Nikole Hereim, Harlowton, 102-111--213; 16. Kylee Permann, Belt, 102-115--217, and Hailey Bell, Chinook, 109-108--217; 18. Rebecca Lynn, Hobson, 106-114--220, and Annika Lunde, Wibaux, 107-113--220; Allison Jensen, Fairview, 109-112--221, Halle Bacon, Harlowton, 105-116--221, and Kalyn Dow, Centerville, 113-108--221; 23. Lindsay Cook, Manhattan Christian, 109-115--224; 24. Tessa McNeil, Park City, 115-110--225, and Autumn Heppner, Plentywood,114-111--225; 26. Teagan Mauldin, Seeley-Swan, 116-113--229, and Kaylee Cole, Plains, 115-114-229; 28. Makena Hauge, Culbertson, 116-116--232, and Maddison Osterman, Belt, 113-119--232; 30. Avery Seadeek, Fairview, 117-116--233; 31. Dani Beery, Fairview, 118-118--236; 32. Bethany Hoag, Seeley-Swan, 116-121--237; 33. Devan Beeler,  Wibaux, 118-120--238; 34. Whitney Maher, Scobey, 121-118--239, Danika Lords,  Belt, 123-116-239, and Isabella Fatzinger, Richey-Lambert, 104-135--239; 37. Paige Carda, Richey-Lambert, 114-126--240; 38. Lauren Kjos, Fairview, 128-113--241, Shayanne Castro, Savage, 123-118-241, and Laurel Sponheim, Richey-Lambert, 122-119--241; 41. Nila Dawson, Absarokee, 127-116--243, and Lauren Billing, Broadus, 121-122--243; 43. Ava Thornsberry, Seeley-Swan, 117-127--244, and Briana Robins, Sunburst, 117-127-244; 45. Cora Stone, Seeley-Swan, 137-108--245, and Morgan Friede, Chinook, 128-117--245; 47. Gracie Barabero, Broadus, 122-125--247; 48. Allison Howes, Absarokee, 128-121--249, and Halle Larson, Park City, 129-120--249; 50. Alison Wertheimer, Hobson, 132-118--250; 51. Shantel Bertelson, Wibaux, 123-130--253; 52. Jenna Linder, Scobey, 126-129--255, and Tara Robins, Sunburst, 122-133--255; 54. Josie Wilcysnski, Lone Peak, 139-117--256; 55. Emily Routen, Absarokee, 129-130--259 and Kendyll Story, Park City, 122-137--259; 57. Madison Allen, Ennis, 143-123--266; 58. Aubrei Constant, Superior, 123-144--267; 59. Grace Horton, Plains, 138-130--268; 60. Lea Aye, Broadus, 135-138--273; 61. Lizzi Wiens, Plentywood, 144-130--274; 62. Sarah Dollenger, Belt, 147-131--278; 63. Lexa Craft, Plains, 146-133--279; 64. Addie Baker, Park City, 152-133--285; 65. Kaylee Anderson, Scobey, 148-145--293; 66. Lauren Vancleefe, Superior, 165-172--337.