BOZEMAN — With 62 seconds remaining in the state Class B championship game Saturday, Owen Long stepped to the line for four consecutive free throws.
The Three Forks senior made the first two on a technical foul, and then he split the next two on the original foul. Those three points stretched a nine-point lead to 12 and then celebration began in earnest after he walked away from the line.
"It definitely sunk (in) as soon as I jogged back to my teammates. It was just awesome," Long said. "It was surreal. I just have no words."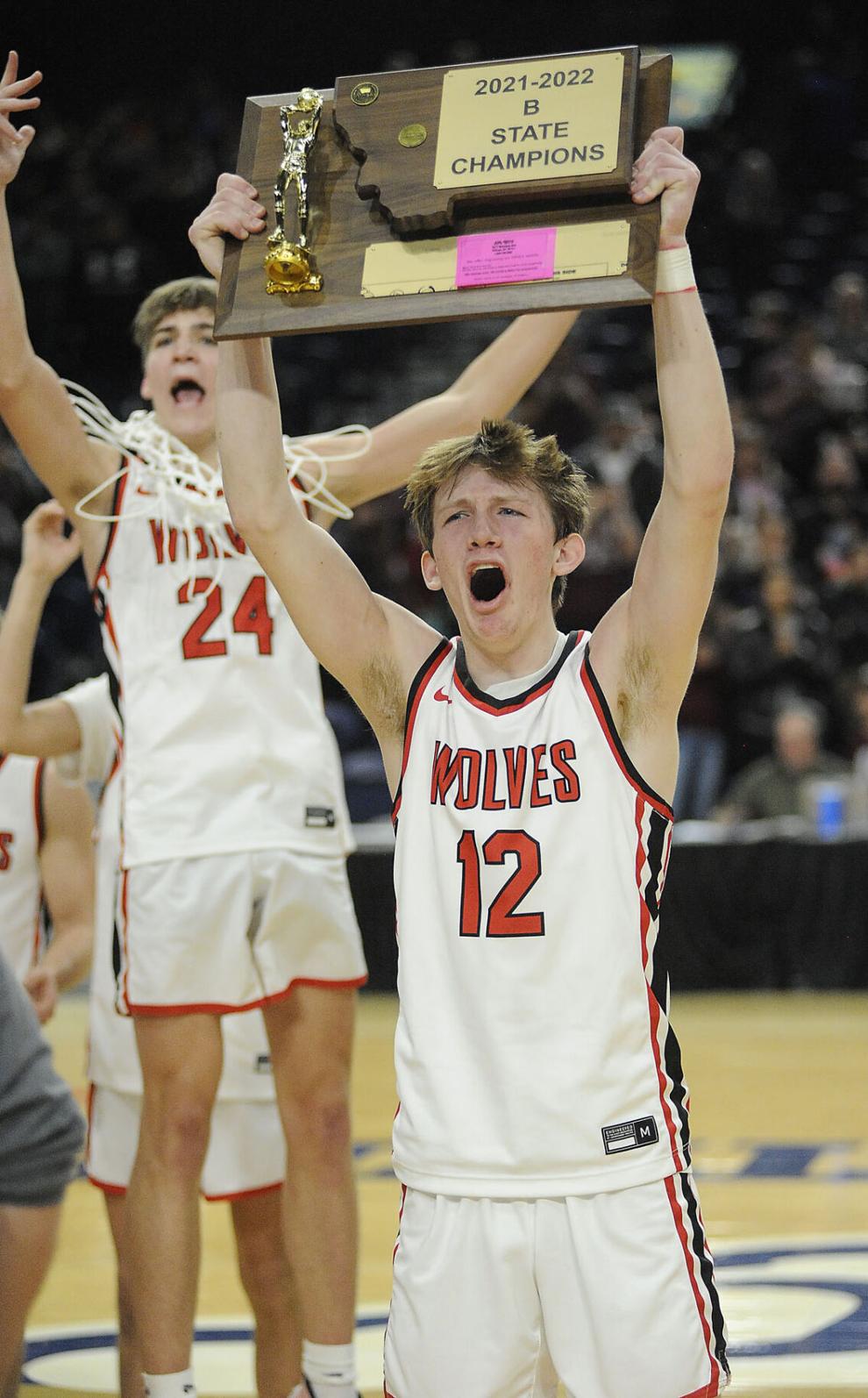 Three Forks built a 14-point lead early in the second half and then held off a fourth quarter surge by Harlem en route to winning the title 72-57. It's the program's first championship since 2001 and third overall.
"Twenty-one years ago I sat here," Three Forks head coach Terry Hauser said. "I've been wanting to get one since I played for them, just a lot of emotions. Been trying to do this for 20 years now."
As parents and friends congratulated Hauser on the court, the sixth-year coach struggled to contain his emotions. But it had more to do than just winning a state championship as his thoughts were elsewhere.
Hauser's brother suffered a stroke Saturday morning, and while he's expected to recover, it threw a monkey wrench into pregame planning.
"I was getting ready to watch film and prepare and got a phone call. Had to rush to my parents house and had to life-flight him to Bozeman and then to Salt Lake once they got him situated," Hauser said. "But that's what a family does. My assistants came up with a scouting report and we went with it. We're a family and we got it done."
Hauser's family was determined to brighten his day.
"He's battling right now, so 100 percent we dedicate this one to him," said Long. "Every minute of that game was for him."
Three Forks (23-5) led wire-to-wire and built a 12-3 lead in the early going led by the effort of Finn Tesoro. The senior scored eight of the team's points during that stretch en route to finishing with a game-high 28.
Tesoro's aggressive drives, rather than settling for perimeter shooting, set the tone for the Tigers, who shot 8 of 10 from the field in the first quarter.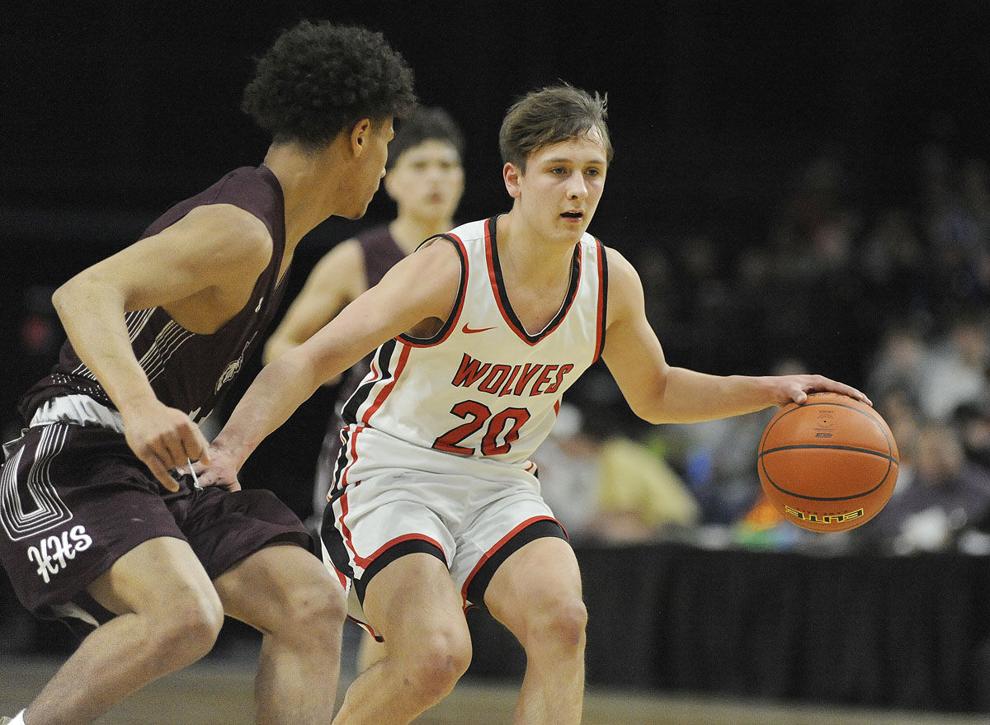 "(Assistant) coach (Andy) Hessen always tells me, 'Play like a guard, not like a shooter,'" said Tesoro. "I played like a guard. I drove, drew fouls and did whatever I could to win."
Tesoro competed in the championship game with Manhattan a year ago, but lost to Lodge Grass. He wasn't about to let that happen again.
"Last year definitely humbled me," he said. "That gave me experience. I knew we could do it, I knew I could do it."
The Wolves took a 34-27 lead into halftime and then stretched it to 43-29 in the first three minutes of the second half. Long sparked a 9-0 run with a dunk off a turnover, while Jacob Buchignani capped it with a 3.
Harlem (16-9), which was making its first championship appearance since 2002, rallied to get within 52-50 on a bucket by Tyler Cichosz with 4:48 to play. But the Wolves pulled away from there by making 14 free throws down the stretch.
Cichosz finished with a double-double after tallying 18 points and 10 rebounds, while Daniel Lawrence and RJ Ramone had 13 and 10 points, respectively.
"We all worked so hard for this. To see all the hard work pay off was unreal," Long, who finished with 16 points, said. "No better feeling."
Three Forks 72, Harlem 57
Harlem                     14  13  14  16  -  57
Three Forks              19  15  14  24  -  72
HARLEM (16-9) - RJ Ramone 5 0-0 10, Teagan Levaldo 0 0-0 0, Daniel Lawrence 4 4-6 13, Tyler Cichosz 7 3-4 18, Caleb Cole 5 1-2 11, Deshon Shambo 1 0-0 3, Amari Stanley 0 0-0 0, Lance Morgan 1 0-0 2, Marley Stewart 0 0-0 0. Totals: 25 8-12 57.
THREE FORKS (23-5) - Austin Allen 3 1-2 7, Jacob Buchignani 5 1-4 12, Owen Long 6 4-5 16, Finn Tesoro 8 12-15 28, Mikey O'Dell 0 5-6 5, Collin Stone 0 0-0 0, Shane Williams 1 0-1 2, Walker Page 0 0-0 0, Rylan Koch 0 2-2 2, Cory Potts 0 0-0 0, Caleb VanVleet 0 0-0 0. Totals: 23 25-35 72.
3-point goals: Har 3 (Lawrence 1, Cichosz 1, Shambo 1), TF 1 (Buchignani).