For the first time since the program began in 2018, Three Forks will have representation at the state tournament.
The No. 1 doubles team of Katie Hayder and Kinzee Howey earned a third place finish during the Southeast B-C Divisional to become the program's first-ever state qualifiers.
First-year Wolves head coach Janna Lauver credited the duo for putting in the time over the past several years to reach state.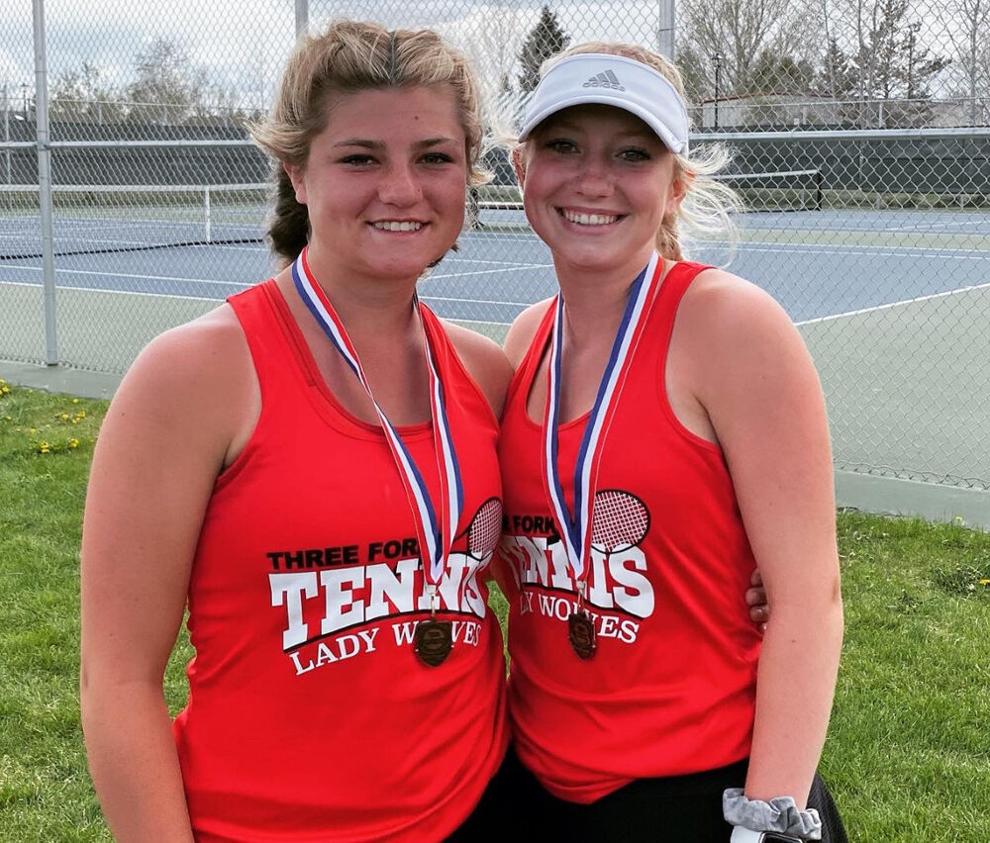 "A lot of hard work, a lot of teamwork, a lot of determination went into the last four years for these girls," she said, "last year being one of the hardest ones not getting to play knowing that they really were one of the best teams in the state. So this is just really incredible."
Hayder and Howey finished 4-1 at the tournament with the lone loss coming in the semifinals to Townsend's Zoey Wickens and Jade Martin, who went on to win the championship.
Hayder and Howey bounced back to win a pair of consolation matches before beating Lone Peak's Vera Grabow/Charlie Sue Dreisback in the consolation match 6-2, 6-2.
"They really powered through some tough matches against players that they had seen on and off this entire season," said Lauver. "There are some players that they play well one day and then they don't play well the next day, and our girls did what they needed to do to come back and just take third."
Led by the duo, Three Forks placed third in the team standings.
"This is our first team for Three Forks to go to state and just a huge testament to these girls and how hard they're willing to work," said Lauver.
The doubles team of Alicia Deriana and Ruby Warden also played well for Three Forks, reaching the semifinals. They eventually finished with a 1-2 record, which includes a 6-1, 7-5 defeat Grabow and Dreisbach in the consolation semifinals.
In singles action, Macie Jensen finished 3-2 after reaching the quarterfinals. After losing, she bounced back to win pair of consolation matches before losing to Jefferson's Rita Buffa in the consolation semifinals 6-0, 6-4.
"Honestly, it just came down to playing a player that just had a good game. Had a really great game," said Lauver. "Macie definitely fought for every point ... it was pretty amazing to watch."
Following a first round bye, Alex Pierce lost in the quarterfinals and finished and finished 1-2. Lauver noted she played two of her best matches of the season during the tournament.
Lauren Stone posted a 2-2 record after a first round loss, which included a 7-5, 6-1 victory over teammate Chaylee Wester in a consolation match.
Wester went 0-2, but played the longest match of the tournament in her opener against Avery Dickerson of Lone Peak. The match went to a third set tie-breaker as Dickerson emerged with a 6-1, 4-6, 6-0 win.
"Chaylee Wester faced her opponents and played a two-hour long singles match against Lone Peak, and having to play against her own teammate Lauren Stone, before finishing out her incredibly strong season with the most season wins and comeback matches," said Lauver.
The top three doubles teams and top four singles players each advanced to the state Class B-C tournament, which will be held May 20-22 in Missoula.