Following play Wednesday afternoon, Three Forks head coach Aaron Harkins noted a couple of his girls had disappointed looks on their faces. Eagle Bend Golf Club is not an easy course, which players discovered during the Division 3 Tournament.
But those frowns were quickly turned into smiles for the Wolves after it was announced that they had won the tournament. Three Forks finished with a score of 443, which was 16 strokes better than Manhattan.
Both teams, along with Townsend and Bigfork, advanced to the state Class B tournament, which will be held May 19-20 in Billings.
"We knew we had a good chance at taking top four. We weren't sure where in that top four we would be. Talking to some other coaches we thought there was four or five teams, depending on the day, that could take first or take fifth," said Harkins. "We're pleasantly surprised with the results, but we thought we had a chance coming in."
The Wolves boasted a pair of top 15 finishers in Halee Wilson and Taylor Rafferty, who placed fourth and tied for eighth, respectively, with scores of 99 and 104. The team was rounded out by Brooklyn Hossfeld (115), Ari Judd (125), and Lydia Kluin (127).
With a successful divisional tournament under their belt, Harkins feels the Wolves have an opportunity to secure more hardware at state.
"We've seen some other scores from around the state, not so many from the north, but we think we have a fighting chance to take top three from what we've been hearing. That could all change when we get there. Every hole, every shot is different in golf," he said. "But I know the girls are super excited."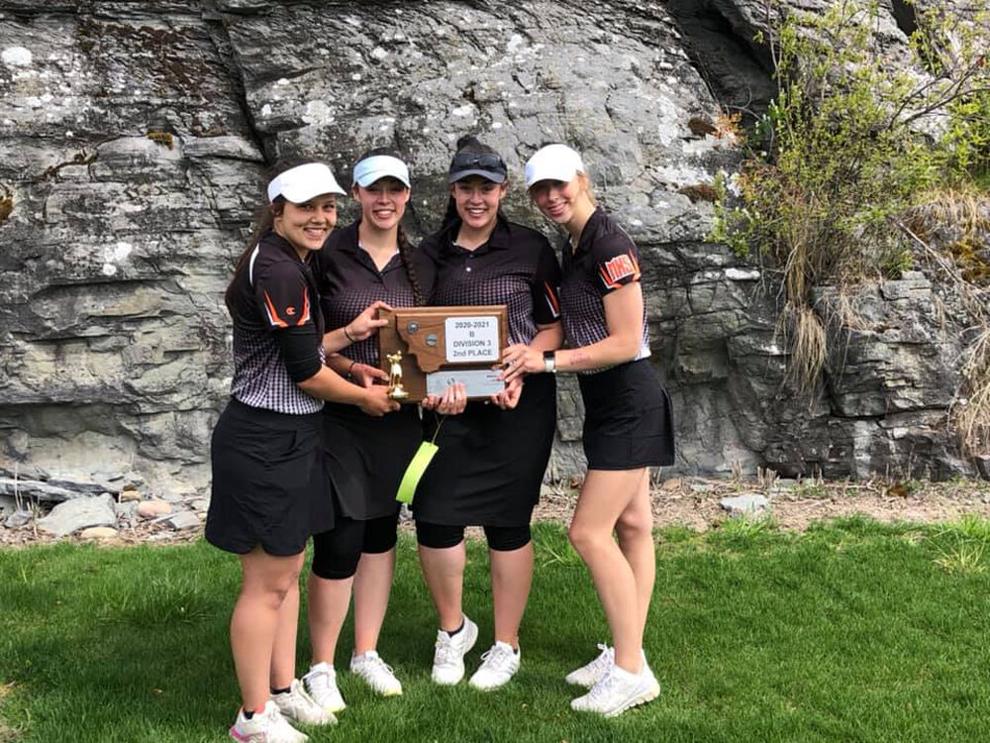 Manhattan finished with a 459, which was three strokes better than Townsend. Longtime head coach Pat Lynch was pleased with the team's effort.
"We knew they were in the hunt from one to five," he said. "It's a surprise, yet we knew we were in the hunt and they came through and played pretty well today."
Sisters Kristen and Ashley McCormack each placed in the top 15. Kristen tied for sixth with a 103, while Ashley was 13th with a 110.
Katelyn Sander and Madeline Kitto rounded out Manhattan with scores of 118 and 128, respectively.
Lynch is excited about the momentum the team has created headed into state.
"I think if we just go and keep playing kind of consistent golf the numbers will take care of themselves," he said. "Where that sits us in the whole team thing I have no idea. But if we can just play consistently, what we're doing now, we'll be fine."
Jefferson's Celi Chapman won the individual title with an 82, while Eureka's Kyla Bohne was second with a 95.
Three Forks' boys placed fifth in the team standings with a 414, while Manhattan was 12th with a 448. Missoula Loyola (337), Jefferson (364), Anaconda (373), and Eureka (398) qualified for state.
Walker Page placed 16th for the Wolves with a 98. The top 15 individuals advanced to state and he finished just three strokes out of qualifying.
"Disappointed for him there, but hopefully that will give him some motivation to practice this summer and come back stronger next year," said Harkins.
Page was the only Three Forks golfer to finish with a score under 100. Michael Boyd carded a 103 and Rhett Violett a 105. The team was rounded out by Austin Allen (108) and Dylan Kamps (125).
Manhattan's top finisher was Nolan Sofie, who carded a 103. He was followed by Reed Anderson (112), Justin Lawellin (112), Xander Kamerman (121), and Aaron Carlson (132).
"They're young and I just had a meeting with them and they could be there next year," said Lynch. "It's just going to take a little work."
Missoula Loyola's Zeke Boos won the tournament with a 71, while Bigfork's Colin Wade was second with a 76.
Aamot, Visser win Ennis invite
While Manhattan and Three Forks competed at divisional, Manhattan Christian wrapped up its regular season May 10 at the Ennis Invitational.
Grace Aamot edged Ennis' Landri Paladichuk 89-90 to win the girls title, while Visser won a scorecard playoff against Lone Peak's Pierce King on the boys' side with a 79.
All five of Christian's girls placed in the top 10 of the tournament, which consisted of just three teams. Tori Cook placed third with a 92 and was followed by Natalie Walhof (5th, 96), Lindsay Cook (6th, 98), and Ada Venhuizen (9th, 113).
There were just two Eagles who competed for the boys with Cody Hager finishing fourth with a 95.
Christian back in action at the state Class C tournament May 19-20 in Bozeman.
(at Eagle Bend Golf Club, Bigfork)
Team scores: Missoula Loyola 337; Jefferson 364; Anaconda 373; Eureka 398; Townsend 403; Three Forks 403; Bigfork 432; Florence-Carlton 438; Thompson Falls 439; Deer Lodge 443; Whitehall 443; Manhattan 448. No score: Deer Lodge.
Top 15 Individuals: Zeke Boos, ML, 71; Colin Wade, Big, 76; Preston Field, Jeff, 81; Kade Pardee, TFalls, 83; Cory Marker, Ana, 85; Erik Casazza, Eur, 85; Connor Hansen, ML, 86; Peyton Toney, Tow, 87; Kaden Matheny, ML, 89; Luke Eckmann, Jeff, 90; Jack Haffey, ML, 91; Marcus Lee, Jeff, 92; Levi Bohrer, DL, 93; Andy Savoy, Ana, 94; Tanner Cromwell, Ana, 95.
Team scores: Three Forks 443; Manhattan 459; Townsend 462; Bigfork 476; Missoula Loyola 478; Whitehall 501; Anaconda 510; Florence-Carlton 531. No score: Eureka, Thompson Falls, Whitehall.
Top 15 Individuals: Celi Chapman, Jeff, 82; Kyla Bohne, Eur, 95; Ellie Baxter, TFalls, 97; Halee Wilson, TForks, 99; Megan Baxter, TFalls, 102; Trinity Wilson, Tow, 103; Kristen McCormack, Man, 103; Taylor Raffety, TForks, 104; Brynna Wolfe, White, 104; Meagan Wolfe, White, 104; Bianca Graham, ML, 106; Morgan Newman, ML, 106; Ashley McCormack, Man, 110; Bianca Torney, Ana, 111; Alice Brummer, Tow, 113.