Manhattan's Cayli Chapman was among three players from District 5B to earn All-State accolades when all-conference honors were recently released.
The junior setter was a first team all-conference selection along with junior outside hitter Oliviah Westervelt. The duo helped the Tigers finish with a 10-11 record this past season.
Manhattan went 1-2 during the district tournament, and the two losses were without Westervelt in the lineup due to quarantine.
"We are all super disappointed about how our season ended," Tigers coach Charli Chapman said. "Losing Oliviah on the day we went to play district playoff games was super impactful, and unfortunately we weren't able to pull out of win on Friday (in the consolation match) to get us to the divisional tournament where we could have revamped our plan and show up to compete."
Westervelt led the team in kills with 284 and also contributed 208 digs and 30 aces.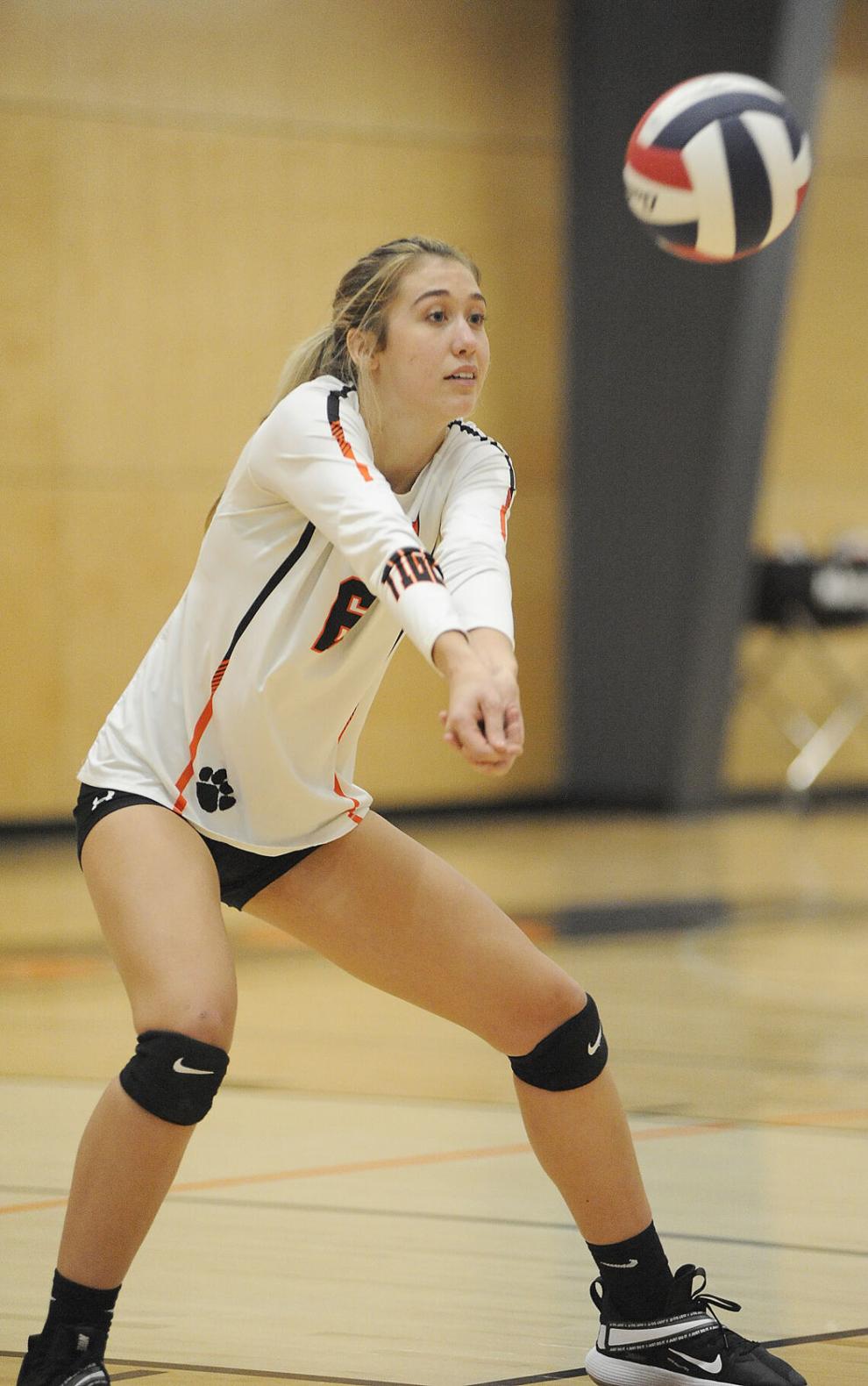 Cayli Chapman led Manhattan in assists (638) and aces (56). She also tallied 175 digs and 73 kills.
While they didn't earn all-conference honors, coach Chapman also noted the effort of junior Teresa Bannan and senior Abby Kabalin. Bannan led the team in blocks with 47, while Kabalin led in digs with 257.
"I feel like we had a lot of good moments this season, a lot of big battles that went to five (sets) and a lot of good learning growth that happened within our program," coach Chapman said. "Looking ahead we lose one senior (Kabalin) and will be bringing back six starters, which makes us all pretty excited about the coming year."
Three Forks' lone all-conference selection was Addison Pestel. The sophomore libero earned second team honors during the Wolves' 4-14 campaign.
"Addison Pestel had an incredible sophomore year. She was in the top five of our conference for digs," Three Forks coach Tracy Welter said. "Addi has an uncanny ability to react to the ball and most definitely has a very bright volleyball future. The best is still yet to come."
Grace Alexander, Jefferson, Sr; Trinity Wilson, Townsend, Soph; Cayli Chapman, Manhattan, Jr.
First Team All-Conference
Grace Alexander, Jefferson, Sr; Trinity Wilson, Townsend, Soph; Cayli Chapman, Manhattan, Jr; Meagan Johnson, Whitehall, Sr; Dakota Edmisten, Jefferson, Jr; Oliviah Westervelt, Manhattan, Jr; Alleigh Burdick, Townsend, Sr.
Second Team All-Conference
Becca Payne, Townsend, Sr; Kendra Klapan, Whitehall, Sr; Alyssa Bosart, Big Timber, Jr; Rachel VanBlaricom, Jefferson, Jr; Emily Bird, Townsend, Frosh; Brynna Wolfe, Whitehall, Jr; Addi Pestel, Three Forks, Soph.