MANHATTAN — After trading baskets for the first 11 minutes of the contest Monday night, Manhattan finally found a rhythm on both ends of the floor en route to victory.
The Tigers stretched a slim two-point lead to double figures by halftime, and then broke the contest open in the third quarter en route to a 64-38 District 5B victory against Jefferson.
"We came out kind of flat as far as our intensity goes, and it was just kind of match for match," Manhattan coach Wes Kragt said. "Then we figured out what they were doing offensively and made a couple of adjustments, and then they struggled after that."
The win locked up the No. 1 seed heading into the District 5B Tournament for Manhattan. The Tigers (9-1, 8-0 District 5B) will have a first round bye in the tournament, which begins Feb. 23.
"That was what we were kind of shooting for was playing for the conference games, preparing for that, so we could get home court advantage heading into districts," said Kragt.
Manhattan never trailed, but the contest was tied four times in the first quarter as the Panthers answered shots at the other end. But the Tigers opened the second quarter on a 10-3 run and withstood a pair of 3's by Trent McMaster to take a 31-21 halftime lead.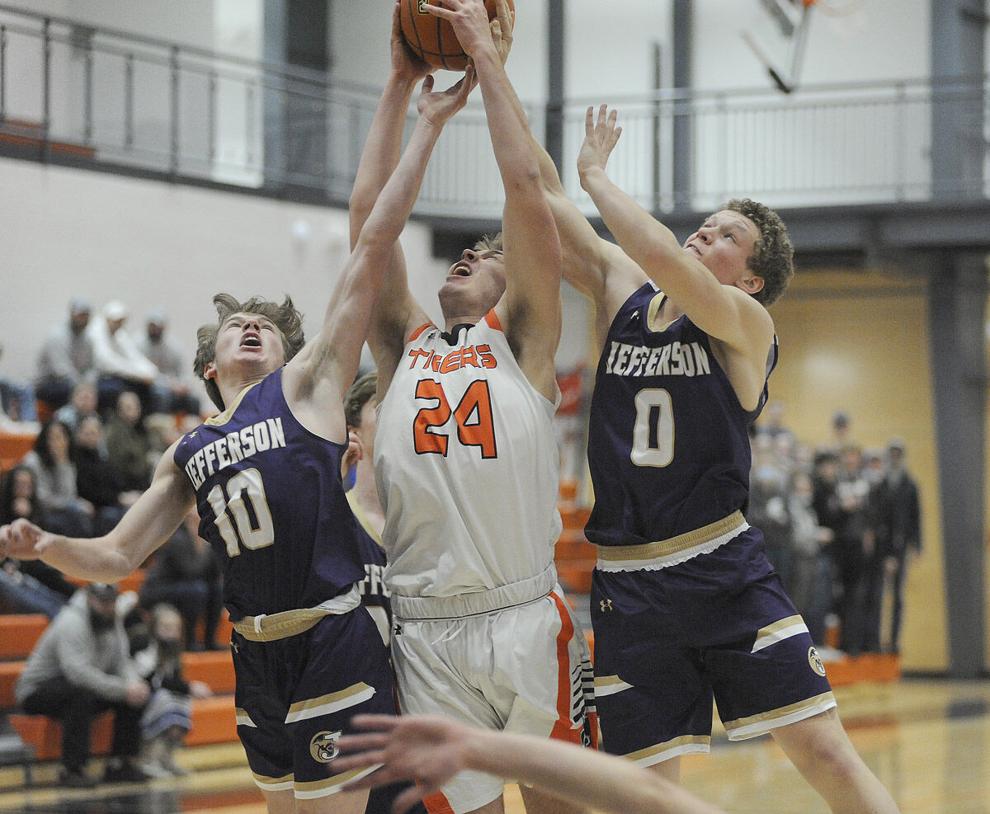 Manhattan began the third quarter on a 7-0 run, which featured five points from Caden Holgate, and then Finn Tesoro connected on the team's lone 3-pointer of the night to stretch the lead to 41-23.
"We've been a three-point shooting team and we played a whole game and only made one three," noted Kragt. "So we were doing a good job of getting it inside, coming off screens and just going down hill on them. Our shots weren't falling early, so we attacked the basket and did a good job with that."
McMaster added two more 3's in the third quarter en route to finishing with 18 points. But the Panthers never found a way to contain Manhattan offensively.
Holgate tallied a game-high 21 points, while Tate Bowler and Sven Stenberg also reached double figures with 15 and 10, respectively.
Overall, nine of Manhattan's 12 players scored in the contest. It's something Kragt hopes will continue as the team heads into the postseason.
"I think we just need to keep perfecting what we're doing, swinging the ball and playing good team ball. And keep playing good defense," he said. "Our last three games we've played really good defense, so we're going to hopefully continue to do that."
The Tigers will play Jefferson again Thursday in a makeup game, and then will close out the regular season with a non-conference game at Park and a league game at Big Timber.
"Kind of a tournament style with three games in a row," said Kragt. "It will be a good way for us to get in game shape by playing games for the tournament."
Manhattan 64, Jefferson 38
Jefferson                  11  10  11   6   -  38
Manhattan               13  18  18  15  -  64
JEFFERSON (5-5) - Brandon Morris 2 0-0 5, Tom Meyer 0 0-0 0, Zach Zody 0 0-0 0, Joe Visser 1 1-2 3, Tyler Harrington 1 0-0 2, Cade Coate 0 1-2 1, Michael Emter 0 0-0 0, Trent McMaster 4 0-0 18, Luke Eckmann 0 0-0 0, Jayden Kemmer 0 2-2 2, Jake Genger 1 1-2 3, Wade Rykal 1 2-5 4. Totals: 13 7-13 38.
MANHATTAN (9-1) - Caden Holgate 9 5-6 21, Colter Barta 0 1-2 1, Finn Tesoro 2 0-0 5, Jadon Pierce 0 0-00, Tate Bowler 5 5-6 15, Evan Douma 2 0-2 4, Corban Johnson 1 0-0 2, Wyatt Jones 2 0-0 4, Sven Stenberg 5 0-0 10, Markus Fenno 0 0-0 0, Michael Swan 0 0-0 0. Totals: 25 13-18 64.
3-point goals: Jeff 5 (McMaster 4, Morris), Man 1 (Tesoro).