MANHATTAN — After the defense allowed another bucket in the paint approaching the midpoint of the first quarter, Wes Kragt had seen enough. Manhattan's third-year coach called time out trailing by nine.
Then things actually got worse before they got better.
The Tigers struggled throughout the first half Thursday night and trailed by as many as 13 in a District 5B clash against Big Timber. But by halftime they were within eight before rallying in the second half for a 69-52 victory.
"We were not playing good defense and we were trying to work on pushing the ball more this week. We just had some bad passes. Turned the ball over 11 times in the first half and those all count as not getting opportunities at the basket," said Kragt. "And then we got down and we started pressing. We were trying to get it back in one shot."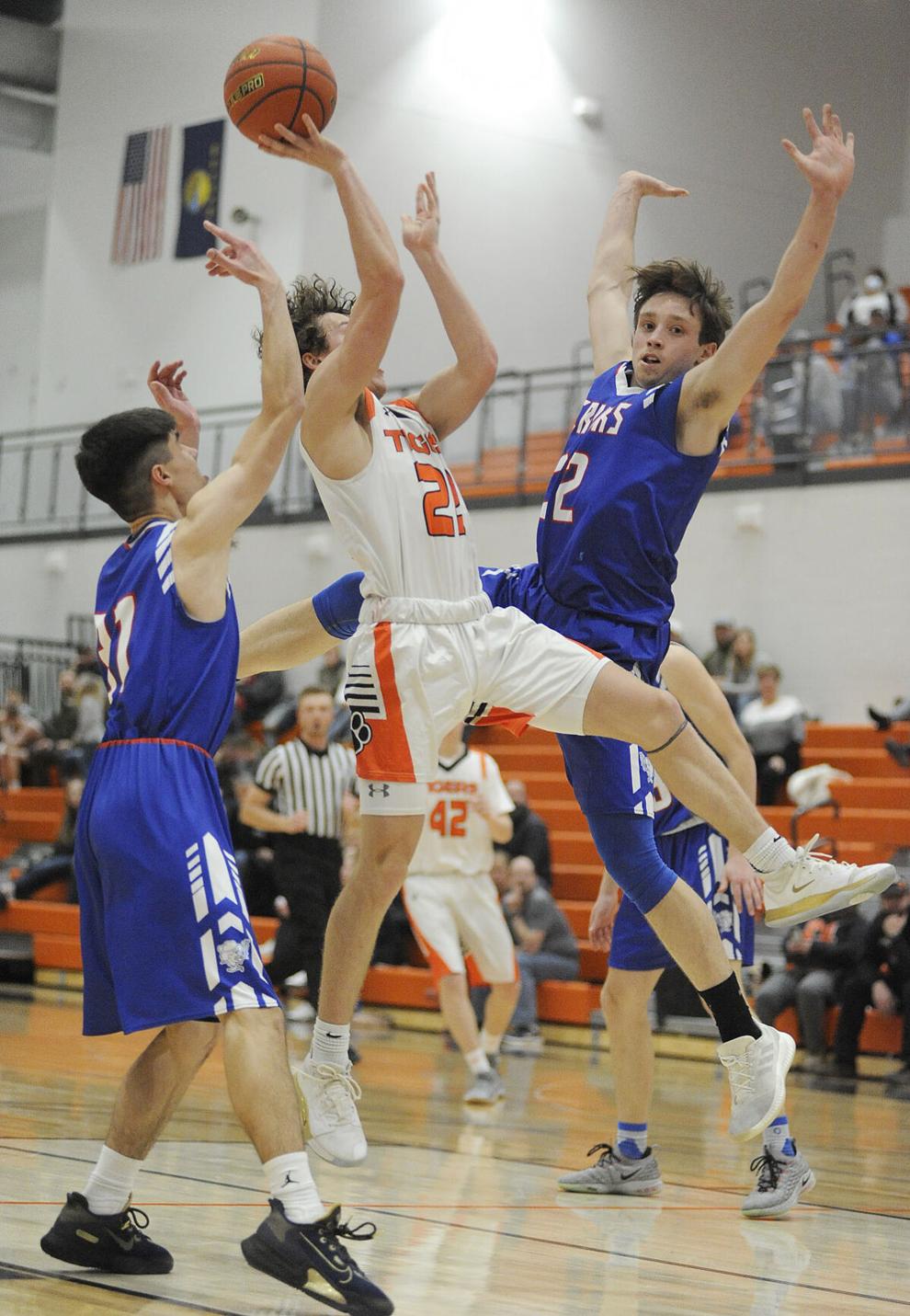 Tristin Matzik scored eight of his team-high 16 points in the first half for Big Timber. Codee Mehus and Kuirt Gullings combined for 11 more first half points as the Herders dominated inside and threatened to turn the contest into a rout.
"We struggled to get rebounds. They're a physical team and it was a physical game," said Kragt. "Second half we kind of matched that back at them, and they were sending five to the boards every single time. So once we got a rebound we were able to push it and get some fast break opportunities."
Caden Holgate led the rally in the third quarter for the Tigers, burying a 3 to spark a 12-2 run that tied the game at 36. Holgate added another 3-pointer on the run, and Manhattan eventually took the lead, 39-38, on a 3 by Finn Tesoro with 3:11 left in the frame.
"Caden had a couple threes, (Tate) Bowler had a couple nice drives," Kragt noted. "We can be explosive at times with our three-point shooters, and we were just kind of waiting for that run."
Bowler connected on a 3 early in the fourth to stretch the lead to eight, 46-38, and finished with 22 points. Holgate poured in a game-high 24, including four 3-pointers.
The Tigers (4-0, 4-0 District 5B) pushed the lead to double figures with a 9-2 run early in the fourth, and then sealed the win with an 8-0 run to counter a 3 by Mehus late in the game.
While Kragt felt it was good for his team to experience playing from behind, he's still seeking a complete game effort from the team.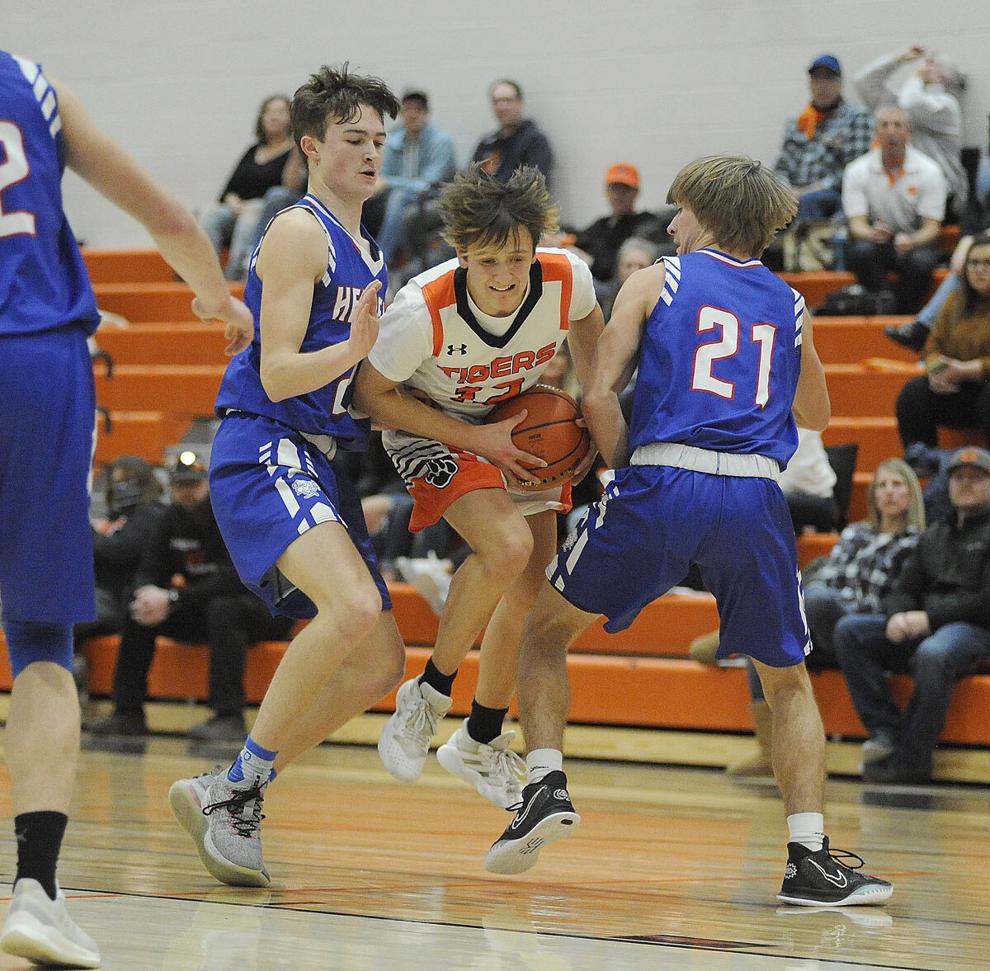 "We still haven't put four quarters together that we need at tournament to win games, and it's still early," he said. "I'm a little disappointed that we don't get to play Livingston tomorrow. I think that would have been a good game for us to play against a Class A school that has some height and some different things to their game that we'll see if we make the divisional tournament."
Friday's contest against Park County (Livingston) was canceled. Manhattan returns to action at Manhattan Christian Jan. 22.
Schedule changes: The Jan. 22 game was originally scheduled to be played in Manhattan, but has been moved to Churchill. In addition, the team's second game of the home and away on Jan. 26 has been canceled and will not be rescheduled.
Manhattan 69, Big Timber 52
Big Timber                19  13   6  14  -  52
Manhattan                 8  16  19  26  -  69
BIG TIMBER (2-2) - Kuirt Gullings 4 0-0 8, Jose Pullman 0 0-0 0, Codee Mehus 5 0-2 13, Connor Giesecke 1 0-2 2, Sam Sheperd 1 0-0 3, Tristin Matzik 8 0-5 16, Tanner Gregorich 0 0-0 0, Brayden Young 1 2-2 4, Trevor Mosness 2 2-5 6, Rory Lannen 0 0-0 0. Totals: 22 4-16 52.
MANHATTAN (4-0) - Caden Holgate 7 6-7 24, Colter Barta 1 0-0 2, Finn Tesoro 2 0-0 5, Jadon Pierce 0 0-0 0, Tate Bowler 8 5-6 22, Evan Douma 2 1-3 5, Corban Johnson 3 0-0 6, Wyatt Jones 0 0-0 0, Sven Stenberg 1 0-0 2, Markus Fenno 1 0-0 3. Totals: 25 12-16 69.
3-point goals: BT 4 (Mehus 3, Sheperd 1), Man 7 (Holgatge 4, Tesoro 1, Bowler 1, Fenno 1).