Trailing by four scores at halftime it could have been easy for Manhattan to roll over in the second half Friday night, but the defending state champions won the final 24 minutes of the contest.
Unfortunately for the Tigers, it wasn't enough in a Southern B defeat to Townsend. The Bulldogs built a 28-point lead en route to a 34-13 victory.
"Townsend, they're a good team. I think they're probably the second best team in the state," Manhattan head coach Chris Grabowska said. "We kind of knew going in that we had to play a perfect game and that we had to execute things the right way, and compete the whole game. I was really proud of our kids. They did compete and came out in that second half and got 13 points."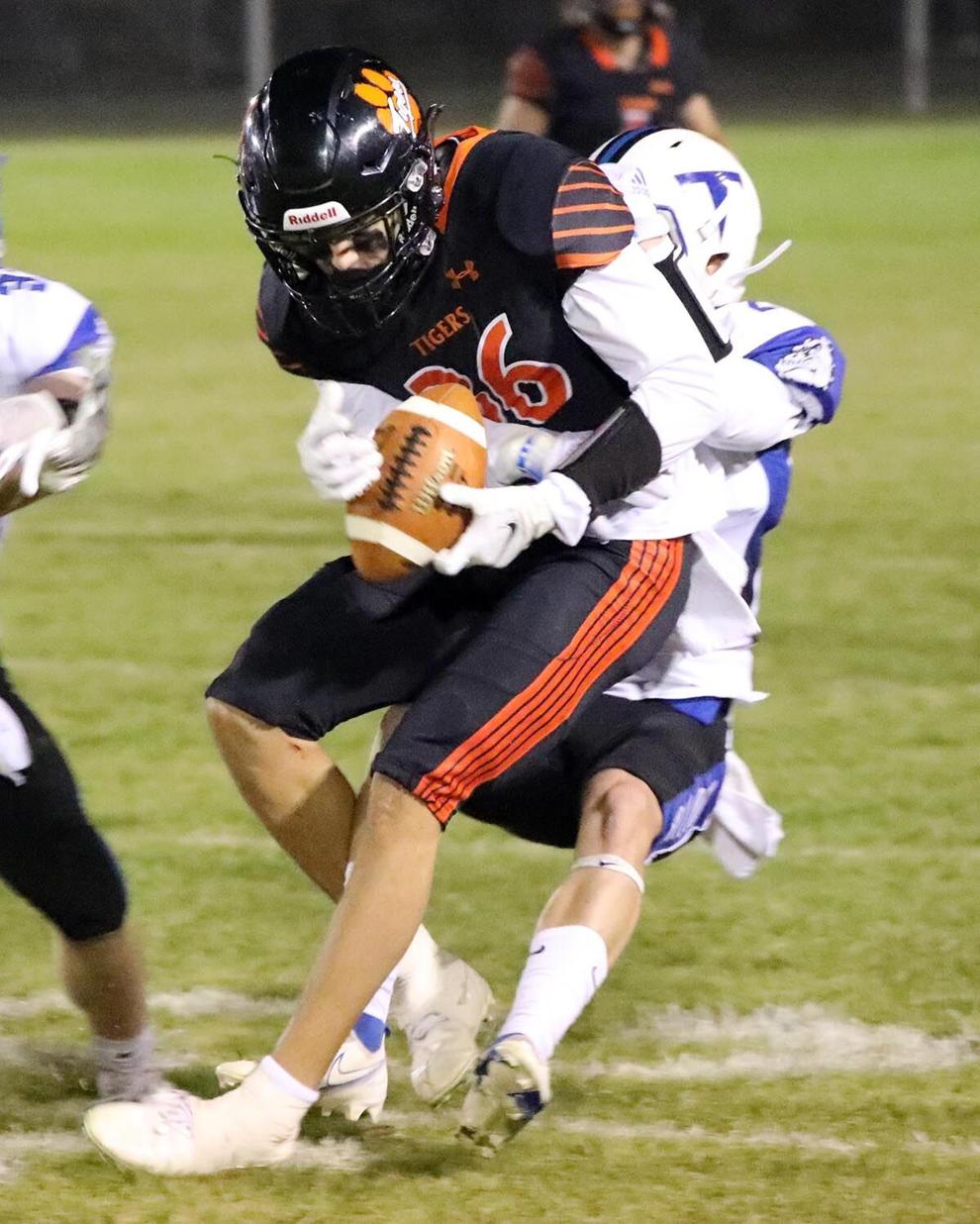 Turnovers proved costly in the first half. Quarterback Austin Devers was picked off twice and the Bulldogs capitalized on a short field to score two of their touchdowns. Devers started in place of Callin Fenno, who was injured in the first half of last week's game in Big Timber.
Devers did throw a touchdown pass to Corban Johnson in the third quarter, and the Manhattan defense produced a score when Denver Jenkins returned a fumble for a touchdown.
With the loss the Tigers (1-4) fell to 0-2 in conference play. They'll need a victory next week against Three Forks to keep their postseason hopes alive.
"I think we're definitely still in the hunt. We have to continue working and continue to own what we need to do and keep moving forward," Grabowska said. "We got to definitely win two of our next three to make the playoffs. It will be a tough task, but I think we have a good chance of doing that. We'll see if our guys can keep buying in and keep working hard. I'm excited to see what they can do."
Jefferson 37, Three Forks 0
Luke Oxarart caught three touchdown passes Friday night in leading Jefferson to a 37-0 Southern B victory against Three Forks. Two of those scores came the first quarter.
The Panthers led 21-0 after the opening frame and 35-0 at halftime.
Quarterback Braden Morris threw four touchdown passes, while the special teams scored on a blocked punt and the defense on a safety.
Three Forks (3-3, 0-2 Southern B) travels to Manhattan Friday.
Townsend 34, Manhattan 13
Townsend                       6  22  6  0  -  34
Manhattan                     0   0   7  6  -  13
Scoring plays not provided.
Jefferson 37, Three Forks 0
Jefferson                      21  14  0  2  -  37
Three Forks                   0    0   0  0  -   0
Jef - Jake Genger 15 pass from Braden Morris (Luke Oxarart kick)
Jef - Oxarart 5 pass from Morris (Oxarart kick)
Jef - Oxarart 21 pass from Morris (Oxarart kick)
Jef - Genger blocked punt return (Oxarart kick)
Jef - Oxarart 37 pass from Morris