With the exception attending college out of state for a couple of years, Hanna VanDyk has been a part of the Manhattan Christian volleyball program since 2006 — first as a player and then as an assistant coach. Now, VanDyk will guide the Eagles into a new decade as their head coach.
She was hired in mid-January to replace Jill Ayers, who retired after winning the state Class C championship in November after 16 years at the helm.
"I'm very excited to see what we can do with it," VanDyk said. "But I don't want to come in too confident, of course, because it's going to be different. A lot of change is going to happen for these girls and change isn't easy for anyone."
The Eagles lost just two matches this past season beginning with District 11C rival Gardiner late in the regular season and then Bridger in the semifinals at the state tournament. They avenged the loss to Bridger, winning both title matches against the Scouts after battling back through the consolation bracket to claim the second championship in program history.
VanDyk noted that Ayers had been grooming her to take over the position all season long, and does not foresee wide scope adjustments.
"There's always little stuff that you're going to change a little bit," she said. "But this group is a really solid group that we got coming back, so I don't feel like we have a lot of fundamental stuff (to work on). We won state, so these girls are winners and they have a lot of drive."
Ayers retired as the program's all-time leader in victories with a 302-111 record. She guided the Eagles to a pair of state championships — the other one came in 2011 — and runner up finishes in 2008 and 2014. Manhattan Christian placed third in 2013 and fourth in 2018.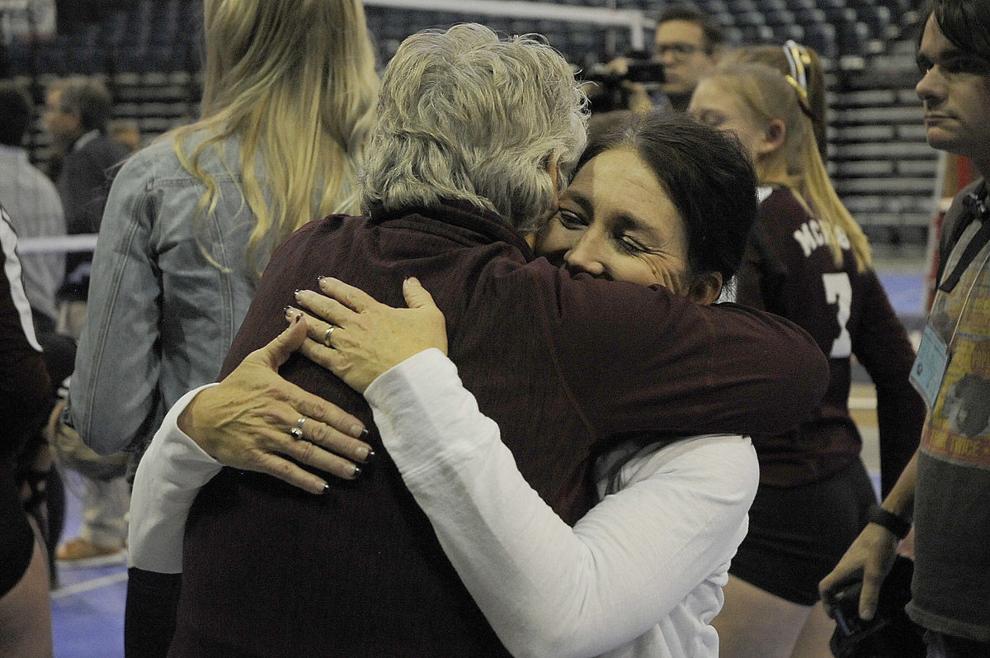 The program also earned countless district and divisional trophies under Ayers' leadership, including district and divisional titles this past season during a 26-2 campaign.
Manhattan Christian Athletic Director Liz Flikkema approached VanDyk about taking over the program in December, and she officially accepted in January.
"That's a perfect situation," Flikkema said of VanDyk becoming head coach. "It's also a perfect situation to leave if you're a coach. Nobody can say, 'Well she's leaving because next year's going to be terrible' or whatever. She (VanDyk) doesn't have to deal with the bottom up because she's got a full house back."
VanDyk graduated from Manhattan Christian in 2010 and helped the Eagles earn a runner up finish at state in 2008 when the program was competing at the Class B level. She attended Dordt College in Iowa to play basketball before returning home in 2012.
VanDyk began coaching junior varsity volleyball at nearby Manhattan the following year and then volunteered at Manhattan Christian in 2014 before becoming the JV coach under Ayers in 2015.
While the Eagles lost six seniors to graduation, the cupboard remains full.
"We have some big holes to fill. Our senior class was there a long time, four years, and some of them played all four or at least three of the four (on varsity). So we're filling spots," VanDyk said. "But yeah, this is a really solid crew that's going to be sticking around, so it's really exciting.
"There's so much to be thankful for that we have and the opportunity that we get to play. But you always got to come out and the court with a lot of grit, and I think these girls showed that by the end of the season last year. I want to build off of that."