FAIRFIELD — As offensive coordinator Wes Kragt talked with quarterback Caden Holgate about what to do next, Chris Grabowska interjected.
"Take a knee, take a knee," Manhattan's head coach shouted on the sideline. "Victory formation."
As Holgate did what was instructed on the final play of the game Saturday afternoon at Jacob Shilling Field, Grabowska removed his hat and headset and was immediately doused with a Gatorade bucket full of water by players.
Finally, Manhattan was the state champion.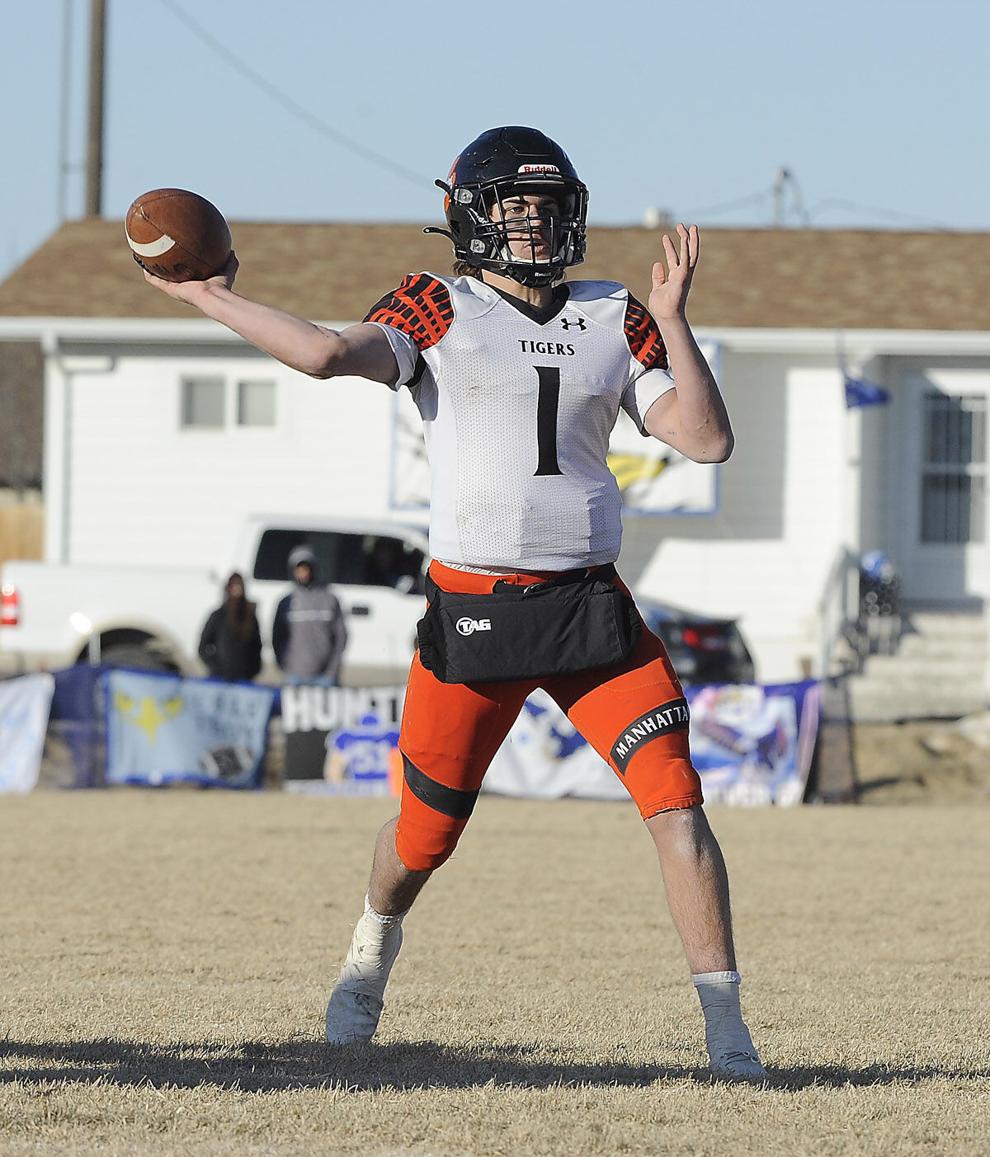 "They've worked so hard for this for so long, and a lot of generations of Tigers have worked for this to get to this point. We're finally here," Grabowska said. "They get to celebrate it, our community gets to celebrate it. It's a great feeling."
The Tigers (12-0) completed the first unbeaten season in program history by rallying to beat Fairfield 23-6 in the Class B championship game. The victory erased the heartache from a year ago when Manhattan lost in the finale to Eureka on its home field.
It was a devastating defeat, Holgate said, but drove this year's team to a title.
"That was our added motivation and chip on our shoulder this season," Holgate, who threw a pair of touchdown passes, said. "And it definitely showed."
While Fairfield (8-2) was making its 10th appearance finals appearance, it was just the second for the Tigers. Manhattan has steadily become a postseason staple and got over a big hurdle a year ago by beating the Eagles in the semifinals.
"We've been looking up at Fairfield for years. They have a great program and we model our program after them. We wanted to been to be like them," said Grabowska. "They're always well coached, got a good defense, run the ball well. We knew we had to come in and have a great game today to be able to come out victorious."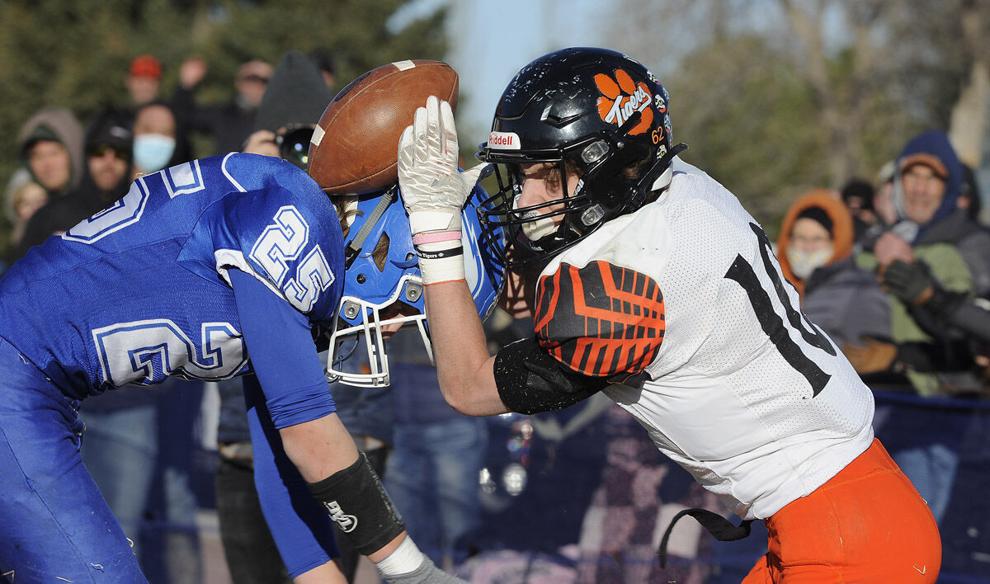 Early on, that was not the case. The Tigers committed half a dozen penalties in the first half as well as a pair of turnovers.
One of the penalties, roughing the punter, led to Fairfield's only score. While it appeared Gabriel Delgatty had partially blocked the kick on the Eagles' first possession of the game, a flag flew.
"I got a finger on it, but that's how it goes, one way or another," said Delgatty. "It hurt, but you got to battle adversity and play four quarters."
Two plays after the penalty, Daniel Faith scampered for a 34-yard touchdown run. Miguel Perez was tackled short of the goal line on the two-point conversion, however, and Fairfield's lead remained 6-0.
It was the first time this postseason the Tigers trailed, and Manhattan's offense did not gain a first down on its first four possessions. But midway through the second quarter, the sputtering offense began to click.
Manhattan strung together a 10-play drive capped by a 28-yard touchdown pass from Holgate to Corban Johnson. The senior then connected with Tate Bowler for the two-point conversion and an 8-6 lead.
"There was obviously going to be some jitters and some ups and downs," Holgate said of the first half struggles.
Any doubt that the Tigers may have had at halftime was erased on the third play of the third quarter. Sven Stenberg picked off Guidry Giles pass on third down and scored on a 28-yard return.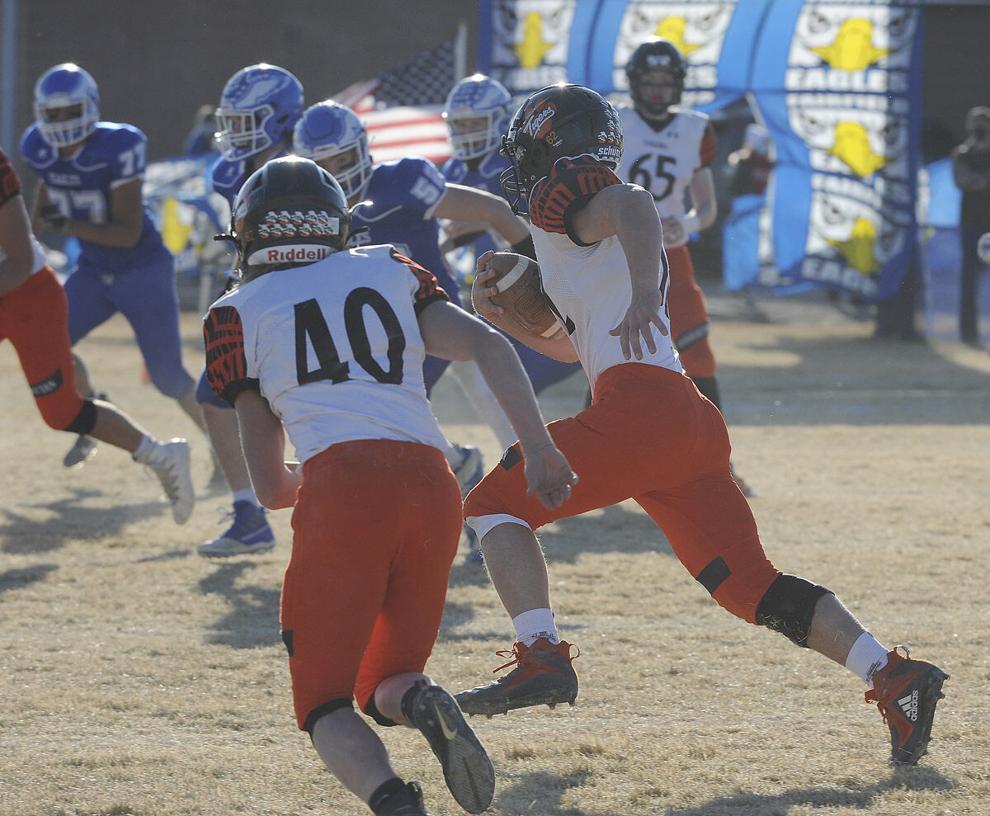 "That was huge," said Holgate. "It gave us added confidence and showed us that we could dominate on offense and defense. That helped out a lot."
While Manhattan led just 16-6 following a two-point conversion, it might as well have been a 30-point advantage. Fairfield was unable to move the ball in the second half and Giles was picked off twice.
"Our defense stepped up big," said Grabowska. "First half we were on the field quite a bit on the defensive side of the ball. They just keep battling all day and then they got that pick at the end and sealed the deal."
Holgate slammed the door shut by picking off Giles with a less than five minutes remaining. The turnover came after he had thrown a 29-yard TD pass to Bowler to stretch the lead to 17.
"They never get down, they just kept chipping away, and they kept with the game plan," said Grabowska. "They just wanted it bad and just knew they had to keep working it and working for it. They truly earned that victory today."
Manhattan 23, Fairfield 6
Fair - Daniel Faith 34 run (run failed)
Man - Corban Johnson 28 pass from Caden Holgate (Tate Bowler pass from Holgate)
Man - Sven Stenberg 26 interception return (Isaac Richardson pass from Holgate)  
Man - Bowler 29 pass from Holgate (Drew Deming kick)